Best Stethoscopes for Nursing and Medical Students – A Definitive List [2018]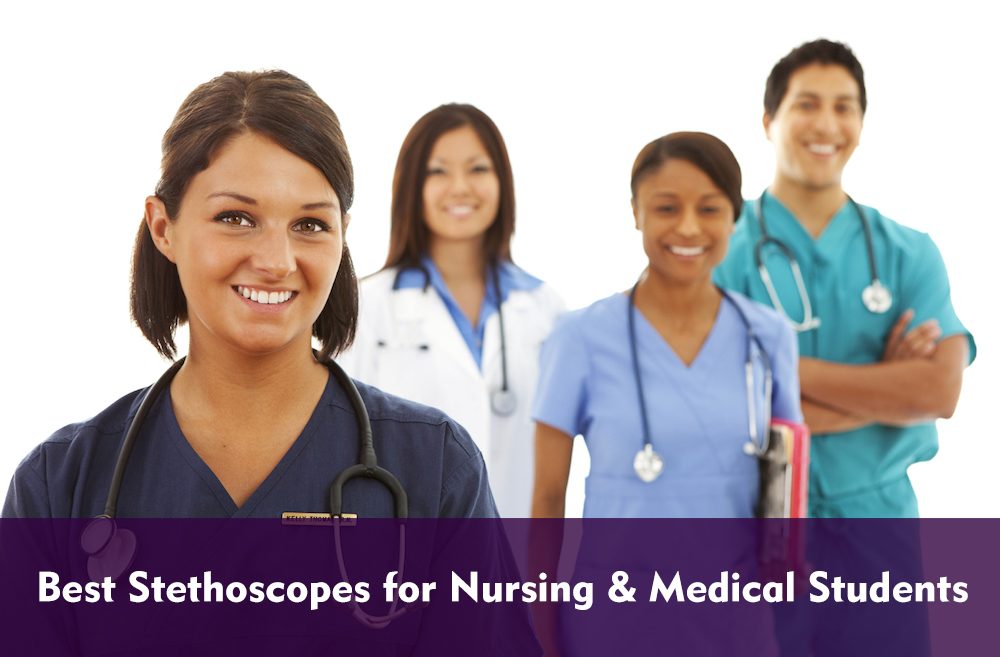 An important tool for individuals indulged in the profession of medicine is a stethoscope. This holds true even for medical and nursing students!
Being a nursing or medical student you must be in a practical training or internship where you will gain knowledge about varieties of medical equipment, with stethoscope being a major one. A good stethoscope can create a huge difference to extent of knowledge you avail. Hence, all you need is a qualitative stethoscope, delivering excellent functionality and still available on a budget.
Out there are tons of stethoscopes available, varying in terms of brands, price, performance, durability, and technology. Hence, this makes the job to pick the most suitable stethoscope daunting and stressful.
But we understand the pain of investing time and money to pick the right stethoscope being a student. Therefore, we list this comprehensive guide to help you select the best stethoscope for your medical training.
Check out our list of the top 10 stethoscopes below that you should buy as a student.
1. ADC Adscope 603 Stainless Stethoscope
No products found.
The Adscope 603 stainless stethoscope comes from the premium Adscope range of stethoscopes of leading brand ADC or American Diagnostic Corporation.
Featuring a stainless steel binaural, this stethoscope comes with a reinforced yoke. It holds extremely soft ear tips that offer a comfort fit ears for a longer duration. The stethoscope is designed with a dual-sided diaphragm and bell to promote listening of both low and high sound range.
The non-chill diaphragm or bell rim ensures that you can treat patients with comfort without making them feel cold through the metal rim. The product comes in varieties of colors, like frosted sea foam, royal blue, grey color, teal, and more.
Besides excellent acoustic seal and comfort grip, it comes with a lifetime warranty on all metal parts. Hence, if you want to make a confident buying decision then you can go with this high-quality stethoscope from industry leading brand ADC.
2. 3M Littmann Classic II S.E. Stethoscope
Now, this stethoscope comes from the worldwide leading brand, Littmann.
This is one of the most popular stethoscopes for medical and nursing students delivering high-quality and reliable performance every time. Though the products from Littmann are high in price as they guarantee unmatched performance and brilliant quality, this one rests on an affordable side.
This stethoscope delivers high acoustic sensitivity along with a double-sided chest piece. Furthermore, the device comes with a tunable diaphragm that allows precise monitoring with a simple pressure change. Hence, every time you make a diagnosis you can listen to high and low frequency sounds with ease without altering the Chestpiece.
With a non-chill rim, it confirms absolute comfort to the patients while they are diagnosed. Its unique feature is an anatomically designed headset that comfortably fits the ear and enables optimal listening experience.
Like few other Littmann's models, even this one is a latex-free design that prevents allergic reactions from sensitive users. Undoubtedly, this is a high-quality product available at a competitive price.
3. MDF Rose Gold MD One Stainless Steel
The MDF Rose Gold stethoscope is a perfect combination of brilliance and beauty.
This is a classy and elegant piece designed specially to match the charm of your medical profession. You can adorn it like other accessories and enjoy comfort to the fullest. MDF is a famous brand renowned to offer products of incomparable durability and performance. Even this one from MDF stands up to high company standards.
You can buy this stethoscope without taking a second thought as it comes with a lifetime warranty on most of its components. It holds a latex-free design that literally lasts for life. You can expect high accuracy and excellent acoustic sound quality from this stethoscope to identify sounds of lungs, bowel movements, and heart.
Hence, if you are looking out for a high level of accuracy and outstanding sound quality, then the stethoscope from rose gold edition is an excellent choice.
4. Dixie EMS Blood pressure and Sprague Stethoscope Kit
Being a medical student, you would definitely love a product that not just offers you a qualitative stethoscope, but also other accessories related to this. And that too at the same price!
This is possible with the Dixie EMS Blood Pressure and Sprague Stethoscope Kit that is a premium product at affordable pricing. This is a basic stethoscope and blood pressure kit, which is ideal for students who have just begun their medical profession career. Though the product is not of super high quality, still it is a great deal for you.
It is an affordable solution and offers reliable performance. Furthermore, the product is prepared from best materials and components, which makes it a great to cater well your entire clinical rounds. It is a great kit that can offer you with a reliable stethoscope and bundle of blood pressure cuff, which is perfect to help you at the beginning of your amazing medical journey.
5. Littmann Classic III Stethoscope, 27 inches, 5803
If you are ready to spend some additional bucks and does not want to compromise on the quality then the stethoscope from Littmann Cardiology III is a perfect choice.
Being a medical student, this stethoscope might seem quite expensive to you. However, the benefits it offers are unmatched. It comes with an impressive design and offers one of a kind acoustic sound quality. Most importantly, it is a highly durable and versatile product that incorporates numerous exclusive features.
Besides an adjustable diaphragm, the tubing is made of natural materials, which is Latex free. Its chrome or black plated chest piece makes its appearance even more impressive. The stethoscope weighs 5.3 ounces and hosts a single diaphragm. You would avail 3 pairs of ear tips as well as vinyl storage case with this stethoscope.
But don't expect an outstanding functionality from this device. It is designed to meet the average needs in terms of price, features, performance, versatility, and durability.
6. MDF Acoustica Deluxe Lightweight Dual Head Stethoscope
This stethoscope from MDF is an uncompromising and versatile stethoscope.
It is a lightweight product that offers rich comfort to the users when there is a need to wear it for a long time period or to shift classes. Besides dual-leaf spring reinforcement, the stethoscope holds excellent material durability and outstanding high-quality acoustic sound performance. Another exclusive feature is its double-headed chest piece prepared from aluminum and prepared with a bell or diaphragm combination.
Even the product is made with a non-chill rim offering excellent sound amplification and precise isolation for enhanced sound clarity. The dense and thick PVC tubing ensures to deliver excellent acoustic sound performance. Moreover, it even seals the undesired ambient noise.
The stethoscope comes with 3 pairs of MDF ear tips that are comfortable to the ears and range from a small to big size in order to fit varying sizes of the users. So, if you want a high-quality product, which is versatile and durable, then this one is an ideal choice.
7. Omron Sprague Rappaport Stethoscope
This stethoscope from Omron has been featured as one of the bestselling product in reputed online stores. The best thing about this stethoscope is that it is well-built as well as affordable.
The stethoscope is featured with numerous amazing aspects, with a major one of two channel design combined with double lumen tubing, which begins at the chest piece. As a result, this delivers optimal acoustic sound channeling. Additionally, the product comes with a double-sided chest piece that holds a diaphragm or bell combo. This enables the stethoscope to be highly efficient among pediatrics, infants, and adults.
You would also be impressed with 3 distinct sizes of open bells as well as two distinct sizes of diaphragms that are available at this price. The two pairs of ear tips and a storage case made from vinyl makes it easy to keep, carry, and clean. Most of the parts are designed with latex-free materials that prevent allergies among the users.
You can, therefore, get a high-quality product at an affordable price in the form of the stethoscope from Omron.
8. 3M Littmann Lightweight II S.E. Stethoscope
This is an entry-level stethoscope, which is known for its lightweight and extraordinary functionality.
This stethoscope is equipped with a finely tunable diaphragm as well as dual-sided chest piece that ensure to deliver brilliant acoustic sound quality. The stethoscope is available in a variety of colors, ranging from cell blue, lilac, green, black, and seafoam green. So, if you want to have a colorful vibrant companion throughout your medical training journey then this one is an excellent choice.
Besides being light-weight, it features a non-chilling diaphragm and rim. It is one of the finest models of stethoscopes among medical students and nurses. With numerous features, the product is an ideal choice that delivers superior performance without costing you many bucks.
9. Prestige Medical Clinical Lite Stethoscope
The Clinical Lite stethoscope from Prestige Medical assures you classy appearance, lightweight, and absolute affordability.
The stethoscope is built with numerous amazing features. It comes with a double head chest piece design that enables you to hear low and high sound frequencies with ease. Even the body of the stethoscope is made of anodized aluminum. This makes it a durable product ideal for lasting use.
The overall durability with average functionality is well combined with its lightweight nature. The presence of non-chill rim on the bell side makes it an ideal choice for the customers and comfortable unit for the patients. Also, it features a sensitive fiberglass diaphragm that ensures you have precise readings at every diagnosis.
So, if you are searching for a Snap-On diaphragm ring that is combined with a replacement diaphragm and have a weight of only 3.8 ounces, then this is the finest stethoscope available on the market.
10. R.A. Bock Cardiology Dual-Head Stethoscope with Stainless Steel Chestpiece
This is another premium stethoscope on our list that is highly popular among medical students and nursing professionals.
It features a double-headed chest piece prepared from stainless steel. Besides being durable, this chest piece is tunable and can be changed by applying light pressure to the device. Even the Chestpiece is available with a non-chill rim that prevents shock and discomfort to patients while getting diagnosed.
This stethoscope from RA Bock Diagnostics is an excellent solution for students. It is because it is focused on design and functionality that captures low as well as high frequency sounds with ease. Having a double leaf binaural spring, the stethoscope is easy to adjust. Even the tube is double sides that are sealed in a single tube to deliver superior quality of sound along with minimal acoustic sound interferences.
You can consider buying this stethoscope if you are looking for a high-quality product in the nominal price range.
Buyers Guide – Factors to Consider While Choosing The Right Stethoscope For Medical Students
When selecting a high-quality stethoscope for your medical or nursing school, there are numerous things that you must consider in order to make the right purchase.
While all stethoscopes mentioned in this post are great options with different price ranges, features, and build qualities, you need to select one that best meets your needs. So, know about all the factors that you can consider for selecting the best stethoscope for your educational journey.
1. Features
This is the most important thing to consider when picking the best unit. If you prefer wearing a stethoscope throughout the day or for long hours then you need to pick one that offers complete comfort to your ears. Also, you need to ensure that the stethoscope is lightweight so that it is comfortable to wear for long hours.
On the other hand, if you experience difficulty in hearing sounds then it would be wise to invest in a stethoscope that isolates surrounding sounds and amplifies sound quality.
If you are training as a general physician then select a device that is versatile.
2. Price Range
The next vital thing is the price range of the product. Just like other purchases, it is wise to set a realistic budget range for the stethoscope. This will narrow down your search and help you pick the best product within your budget range.
If in case you are not satisfied with products within your range, then do check products available at a slightly higher price. This will help you in making the final buying decision.
3. Ask Seniors for Advice
If you have searched through numerous stethoscopes in the market and are having difficulty in making a decision, then consider taking the advice of your seniors or teachers.
Ask them about stethoscopes that they prefer or have used? This will help you good insights into the type of stethoscope that works best for them. They are the best customers to ask for necessary advice as they are in a similar environment as you are. Perhaps, they can even help you see their stethoscope so that you can test and check for yourself.
4. Check Online Reviews
Another platform that can help you pick the right stethoscope is to check through online customer reviews. In our list above, we have shared our reviews as well as provided the ratings from Amazon. You can click on the ratings to read the reviews in detail. In most of the cases, reading these reviews will educate you about things and features that you might not have considered.
5. Check for Additional Features
Additional features of the stethoscope such as headset angle, diaphragm angle, tube length, and more can be big deciding factors to purchase a stethoscope.
Make sure you look at the negatives as well as positive aspects of the stethoscope and analyze all possible pros and cons. This will help you get a better understanding of the product. Considering all these factors would help you make a well-informed buying decision and pick the best stethoscope for yourself (Detailed buying guide is present here).
Frequently Asked Questions By Other Students
Q. Is Electronic Stethoscope the Best for Medical Students?
A. If you don't have the affordability constraint then you can plan to pick an electronic stethoscope. Such a stethoscope holds numerous advantages as compared to basic stethoscopes.
It holds the excellent potential to amplify sounds, enhance sound oscillation for better control of frequency, offer better clarity, and digital display results. It is an excellent choice for medical students who are looking for high accuracy at school.
But, it is advised that you pick an electronic stethoscope only when you have completed the training or you have decided on your specialization. It is because such stethoscopes are usually expensive.
Q. What All Important Parts of a Stethoscope must be checked?
A. Being a student you might get confused with various stethoscopes available on the market. For this reason, it is essential that you check for important parts of the device, such as:
Binaural – This is metal part that extends from ear tip to tubing.
Eartips – The ear tips must be comfortable to wear.
Tubing – This is the rubber material that transmits sound to ears from the diaphragm.
Chestpiece – This part is composed of a bell or a diaphragm.
Stem – It is the metal part that links well the tube to Chestpiece.
Ball-bearing – This allows easy switching of auditory sounds between bell and diaphragm.
Most of the high-end stethoscopes may sell these parts separately so that the products last longer.
Q. Should I Purchase Expensive or Cheap Stethoscope?
A. You can decide on your budget to spend on stethoscope depending on your professional needs.
There are a lot of high priced stethoscopes available if you don't have a budget constraint and only want the best.  But in most of the cases, you can get a high-quality stethoscope at a moderate range. Being a student, you should purchase a stethoscope that optimally meets your requirements and is in your budget. The price of a product may vary depending on the diaphragm or quality of bell or materials used to prepare the product.
Q. Where Can I Buy Best Stethoscope for Me?
A. There are numerous online retailers that sell almost all stethoscope brands. We have provided the links above to buy the products from Amazon.
Disclaimer: The links provided above are affiliate links that help us to monetize this website at no additional cost to you. It helps us in running this website to help students like you in making the right decision.
Q. What is the meaning of dual-headed stethoscope?
A. A dual-headed stethoscope is one that offers you two listening ends. A single-headed stethoscope is one that offers only a single listening unit.
Dual – headed stethoscopes are designed to offer users the best ability to listen to a particular area. Also, it obstructs maximum ambient sound and offers better functionality as compared to single – headed stethoscopes. If the dual – headed stethoscope is combined with a bell or diaphragm, then it can help you listen to high as well as low frequencies. Find out more about how the stethoscope works here.
Final Words
I hope this list helps you in picking the best stethoscope for your study and medical training. Just make sure you pick a stethoscope that suits your needs. I have tried to select the above products in a wider price range to help students in deciding the budget as well.
If budget is not a constraint then you may stick to the top-notch quality stethoscope. Otherwise, it is best for medical students to invest in a stethoscope that is available at affordable pricing and is perfect to meet your training requirements. You can always pick the more expensive one later on.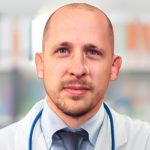 Dr. David Taylor is a medical professional and an avid blogger. He holds an M.D. from Drexel University & a Ph.D. from Indiana University School of Medicine.
Dr. David loves to utilize technology to improve healthcare and he does it daily through BestRatedDocs.com. He founded the company in 2016 with the vision to make the discoverability of the best healthcare facilities & best products simple and easy. His passion for informatics and using technology to empower healthcare professionals and the patients they serve is unmatched. He regularly blogs about technology, health IT, medical products and other healthcare topics at bestrateddocs.com.
Last updated on 2019-09-20 // Source: Amazon Affiliates