Best Otoscopes – Your Comprehensive Guide to Buy the One [Updated]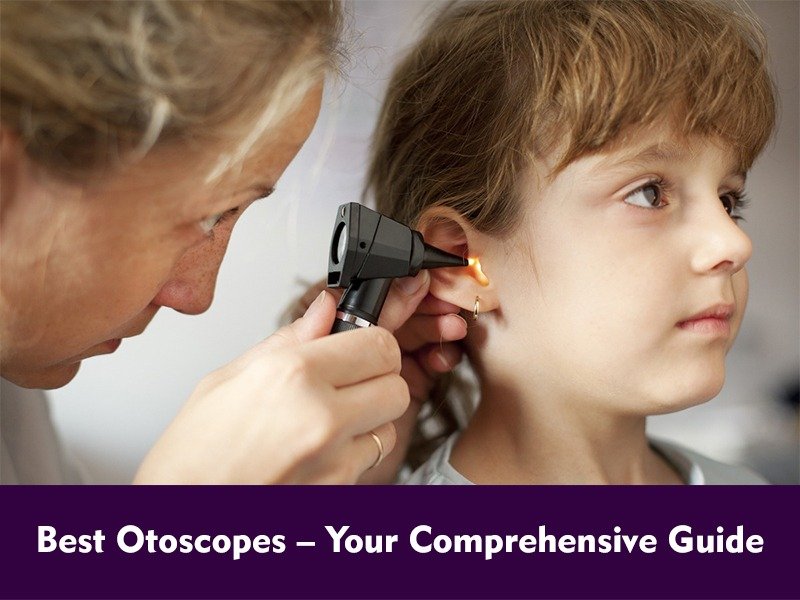 Whether you are a concerned parent or a medical practitioner, buying an otoscope can be a good idea. This small device helps to spot ear infections and other problems so that you can get appropriate treatment. There are numerous otoscopes available in the market, and it is difficult to decide which one is the best for you. While the basic functionality of such octoscopes is the same, they differ in features, performance, durability, and price. So, whether you want an otoscope for a specialized use or profession or want to buy a generic one, this post will tell you about the best octoscopes. By reading this article you will gain insights into the best Otoscopes available in the market and improve your medical equipment ten fold. We have also detailed the functions of Otoscopes and have listed the best device for students, doctors and home use.
What is an Otoscope and What Does it Do?
An otoscope, also known as auriscope is a specially designed medical device to diagnose ear for infections, inflammation, and other possible issues. Healthcare experts diagnose ear during regular checkups or during respiratory ailments, which can result in blockage of the ear path.
The doctor pulls the outer ear to straighten ear canal and then closely monitor the inside with the otoscope at the eardrum and canal walls, also known as tympanic membrane. Since the eardrum sits right between the middle ear and ear canal, changes to its appearance can indicate a big problem. While such devices are usually used by doctors only, caring parents can also use it at home, provided they know how to properly use it.
So, if you are searching for the best otoscope, then this post will tell you about the same. Here we list best otoscopes in general as well as best otoscopes for home use, medical students, medical professionals, physicians, and best digital otoscopes. Also, we will share a comprehensive buying guide to help you pick the best otoscope for your unique preferences. But before we move ahead, first let us know about the structure of an otoscope.
Structure and Function of an Otoscope
It is important to know about every element of the otoscope so that you can use it properly, without causing harm to your kid's ear. Most of the popular otoscopes consists of a head and a handle. The head is empowered with a source of light that enables the doctor to have a clear view of the ear from inside.
The otoscope also incorporates a magnifying lens, which is usually around 8 diopters that gives you the opportunity to have a clearer view of the ear. Furthermore, the front of the otoscope has an attachment for disposable plastic ear specula. The main purpose of this design is to enable the examiner to easily straighten the ear canal and view the ear from inside.
It is vital to handle the otoscope and insert it carefully in the ear because they can be a source of an injury to the ear. For this reason, the examiners are strictly suggested to brace the handle of the otoscope against the head of the patient to avoid damage to the ear canal.
Once the otoscope is set on the patient's ear, the examiner can now look further through a lens on the rear of the instrument. Though you can use a simple otoscope to view the ear canal of the patient, there are other advanced models available, which come with a removable lens. This facility enables the examiner to insert any other instrument with an otoscope to treat the patient. As a result, the patient can receive better treatment.
Otoscopes are used by general physicians, at home, and specialized medical professionals. So, let's check out the best otoscopes under various categories.
Did You Know?
The Otoscope bulbs should be replaced every six months, and rechargeable batteries changed every two years for the best use of the device.
Top Otoscope for Professional Use – Quick Links
Pocketscope Otoscope by Welch Allyn – It's pocket sized and great for home use – the Welch Allyn Otoscope is very convenient.
Doctor Mom Pocket Pro – The perfect otoscope for immediate use, Doctor Mom is a device for your home medical kit. 
Notoco Otoscope 1202 –  Equipped with a double light system, the Notoco Otoscope provides an indept analysis with every use.
SPECv3 Fiber Optic – With it's unique white light, you'll be ahead of the game getting the right diagnosis.
ADC Diagnostix 5111NS – It's light, convenient and pocket sized – the perfect product for every medical student or professional.

No products found.

– With super clarity and brightness, you can get a clear view of the patient with this incredible device.
Welch Allyn WEL22820 – This Welch Allyn device is great for physicians and medical professional and a premium device for regular use.
RA Bock Diagnostics AmzPro –  The Amz Pro is an incredible useful device that is both durable and reliable in any circumstance. This device is highly recommended for clinical use.

No products found.

–  The best for immediate diagnosis, the Dr A-Z offers incredible results with a bright light and comfortable handle.
DDP Premium Fiber Optic Otoscope Ophthalmo Examination Led Diagnos ENT White Color –  Using the best in technology – Fiber Optics Otoscope from DDP is a premium product that doctors around the world can verify.
ADC Diagnostix 5111NS – Using premium materials and high quality components, the ADC Diagnostix is a device worth investing.
KZYEE Wireless Otoscope Wi-Fi Digital Ear Scope 1080P HD Ear Inspection Camera – With dual display and smooth wireless functioning, this Otoscope offers a ear diagnosis like no other.
Best Otoscope for Home Use
Parents at home can take a more active role in ensuring their children health with an otoscope. The device can be used to identify potential problems in ears, especially when children feel discomfort due to their ears.
Related: Best Pulse Oximeters for Home Use
Otoscope at home can help to identify ear infections at any early stage, and hence, treatment can be taken accordingly and the problem is cured fast. Otoscopes come in different quality and prices. Here, we list the best otoscopes for home use that would sure exceed your expectations.
1. Pocketscope Otoscope by Welch Allyn
Sale
Another excellent otoscope for home use is the pocket otoscope from Welch Allyn. It comes with first-class magnifying glass and an extremely high-quality handle, which makes it a highly durable product. Furthermore, it provides sufficient magnification and light that is enough to deliver absolute clarity.
Being too compact in size it can perfectly slip into your pocket and can be stored conveniently. The washable speculum tip makes it versatile unit ideal for children and adult use. With 3 times more magnification, this unit is available at an affordable price, and hence, can be a perfect addition to your at-home medical kit.
Pros
Pros
3 times more magnification
Fiber optic digital bright LED light
Washable speculum tip
Versatile unit ideal for all ages
High-quality handle
Utilizes double A batteries
Premium quality
Durable structure
Cons
Cons
2. Doctor Mom Pocket Pro
4th Generation Dr Mom LED Professional Pocket Otoscope - 100% Forever Guarantee - Large Optical Quality Glass Lens
100% Forever Guarantee Covers ANY Issue for as long as you own our otoscope.- No need to contact Amazon just come to us with any issue or problem and we will...
Removable LARGE Optical quality scratch resistant GLASS Lens with optimal focal length and magnification.
Weblink with 30 high-resolution photos of eardrum pathology and use instructions written by an ER physician.
NOW Soft Warm White LED light for true tissue color. NOT the older more harsh Bright White LED Spectrum with the slight bluish tint found in the older LED's...
The LED advantage with a soft warm white light spectrum like an incandescent halogen but without the FRAGILE filament of incandescent halogen. Our LED module...
The Dr. Mom otoscope series has been the most popular ones and this one is definitely one of the best for home use. This device is so easy to use and comes with a full-spectrum LED light that ensures you can use the model for a great deal of time.
In addition to being reliable, it is equally elegant and is engineered with optical components made out of glass. Buying it would give you separate specula tips for both children and adults, making it more versatile. The best part is the lens is removable and you can clean it whenever you feel like.
Pros
Pros
LED light lasts a lifetime
Easy on battery consumption
You get a web link featuring ear pathology
Lens is removable and can be cleaned
Glass lens gives a clear image of what you examine
It works well with standard specula models
You can unscrew its head to use it as an illuminator
Cons
Cons
Comes in a soft pouch, which is not much durable
3. Notoco Otoscope 1202
Also, you would get a vinyl carrying pouch, which makes it a portable product. If there is need of replacement, then you can always make an order online. This model is cost-effective and guarantees to deliver long-lasting service.
Pros
Pros
Double-focus adjustable light
Three different specula tips of different sizes
Vinyl carrying pouch
Easy utilization
Lightweight and user-friendly
Replacement tips easily available online
Cons
Cons
Delivers moderate efficiency
Did You Know?
Most otoscopes provide a comprehensive view of the entire ear interior up to the ear drum.
Best Otoscope for Medical Students
Medical students need an otoscope to examine the ear as well as study the ear and its functions. Being a student, an otoscope is needed to understand the correct way to diagnose ear infections and suggest a treatment accordingly. For this reason, they require otoscopes which are fully functional, slim, lightweight, portable, and durable. So, based on such requirements here we list the top otoscopes for medical students.
1. SPECv3 Fiber Optic
SPECv3 Fiber Optic LED Ear Otoscope - Physician MD Ear Care Professional & Home Diagnostic Set with 20 Reusable Specula
CLARITY - The ideal ear scope with light. The SPECv3 Otoscope uses a powerful BRIGHT WHITE LIGHT with CRC (Color Rendition Correction) and TRUE TISSUE COLOR....
QUALITY - The recommended Otoscope on Amazon. Make doctor visits and check ups a thing of the past by spotting infections. The SPECv3 is physician grade with no...
DIAGNOSE - Precise and compact magnification lens allows you to SEE inside the ear. 3x magnified detachable lens for easy cleaning with built-in insufflation...
PORTABLE - Hard case with soft foam padding to ensure the SPECv3 is secure and ready for use NOW with 20 x reusable high quality plastic speculum including NEW...
POWER - The SPECv3 is powered by 2x AA Alkaline batteries (Not Included). High power alkaline disposable or rechargeable batteries recommended for MAXIMUM...
Another notable otoscope for medical use is the SPECv3 fiber optic. This product boasts of its unique white light color with color rendition correction. This implies you can view the actual color of the tissue you are focusing on. Approved by the Federal Drug Administration, it is absolutely safe to use and one of the durable models available.
It comes in different sizes of specula tips meant for people of all ages and thereby making it a truly versatile model. Moreover, it is an affordable unit engineered with the highest quality materials and equipped with easy to use mechanisms. So, if you are looking out for a usable device that can help you with your medical studies then this one is surely the best. If you are looking for similar medical equipment and products, you'll find them on Bestrateddocs. You can start with our list of the best first aid kits for every day use. 
Pros
Pros
Excellent clarity allowing to view the ear canal with ease
Powerful white light to witness true tissue color
Tympanic membrane with 360Degree fiber optics for lasting illumination
FDA approved quality
Lightweight and professional equipment ready for use
Brass metal body
Built-in insufflation valve
Practical and super-efficient
Hard case with soft foam padding
Cons
Cons
A little expensive, but worth investing
2. ADC Diagnostix 5111NS
The unit comes with two specula sizes and a soft case, which allows you to carry the product everywhere without worrying about damage. It is a lightweight model available at cost-efficient norms. It is equipped with high-quality optical components, so you can look at crystal clear images of the canal and eardrum. Besides otoscopes, we have a wide range of products to help you improve your medical equipment and diagnosis. Here's our list of the best posture correctors for men and women. 
Pros
Pros
Convenient and Portable
Equipped with standard AA batteries
Easy Operation
Two specula of different sizes
Soft case for carrying
Lightweight
High-quality optical components
Crystal clear magnification
Cons
Cons
3. 2 in 1 Otoscope Set Fiber Optic Digital Bright Led Ear Light Design and 3X Magnification
No products found.
For medical students life is not easy and always unpredictable. There can be potential ear emergencies and the LED Light Design is here to serve you. Considered as one of the best models among users, this otoscope delivers high image clarity and brightness. It features a big lens that comes with superior functionality and quality.
The otoscope is made of durable materials, and hence, you can rely on it for a long time. It comes with a complete kit including 2 specula sizes for children and adults. Also, the optical lens is fairly good quality allowing users to clearly see the tympanic membrane. For more products like this one, we recommend looking through our list of the best knee braces for sport injuries. 
Pros
Pros
Built tough unit meant for lasting use
Best quality optical glass
Bright LED lights for all units
Available with a weblink for detailed use instructions
Disposable specula for kids and adults
Easy to use
Cons
Cons
Best Otoscope for Physicians and Professionals
Otoscopes are important for physicians and medical professionals as they are used to screen for illness and to diagnose ear symptoms. Medical professionals are extremely particular with their tools and do not want to ever compromise on quality, performance, and durability of the product. The items mentioned in our list are the best otoscopes in terms of essential features like quality of the materials, clarity, vision options, and portability characteristics. These items are easy to use and offer the best diagnostics to the patients.
1. Welch Allyn WEL22820
Sale
Another wonderful otoscope designed for physicians and medical professionals is Welch Allyn WEL22820, which has been designed with a clear purpose of offering the user accessibility to a reliable product. In addition to viewing the clear image of the ear canal, it allows you to view the tympanic membrane and throat of the patients.
You don't have to worry about carrying a heavy product as this one is lightweight. Further, it features a sealed utility system for pneumatic otoscope functions and also offer a proper wide-angle lens that enables instrumentation under magnification. In all, it is a small, simple, and convenient unit with bright halogen lights and a built-in throat illuminator. If you prefer premium grade equipment and otoscopes that are of a high budget, take a look at this related article on the most expensive wheelchairs online. 
Pros
Pros
Features Halogen lights
Allows you to view tympanic membrane
Delivers long-lasting illumination feature
Detachable flexible head
Ideal for wide variety of purposes
Sealed system of the pneumatic otoscope
Cons
Cons
Smaller than other products
Halogen light inferior to LED light technology
2. RA Bock Diagnostics AmzPro
New RA Bock 3.2V Bright White LED Otoscope Set Includes Disposable Specula Adaptor and 3 Sizes of reuseable Specula Plus Zippered Leathette Case
NEW RA Bock 3.2V Bright LED OTOSCOPE SET includes DISPOSABLE SPECULA ADAPTOR and 3 sizes of reuseable specula plus Zippered Leathette Case
LED advantage of SHOCK resistance since it contains no FRAGILE filament like Halogen plus very low power consumption. Batteries will last and last unlike...
Includes DISPOSABLE SPECULA ADAPTOR - Disposable Specula work with our otoscope - reduce risk of spreading infection!
Beautiful and durable Chrome plated Brass construction. Scratch resistant glass lens 5X magnification.
Uses 2 standard C batteries, re-chargeble's also work well but usually are not really necessary considering battery power will last and last with LED.
The first otoscope for physicians and medical professionals on our list is one of the most popular devices from a reliable manufacturer. This unit features a clear image enhanced with professional lenses. It is made of the latest technology, and hence, will never fail to deliver outstanding results.
It functions on the basis of fiber optic LED lighting technology, which makes it a professional and reliable accessory for physicians who need to diagnose patients regularly. It allows visualization of true tissue color thereby offering more clarity. Hence, you can check difficult to reach parts of the ear canal. We strive to keep you aware of the latest medical products making waves in the market much like this article on the best tens unit available for pain relief. 
Pros
Pros
360-degree fiber optic technology
Long-lasting illumination
Visualizes true tissue color
Fiber optic LED lighting
Professional lenses
Based on the latest technology
Perfect for daily use
Cons
Cons
Cannot handle severe impacts
Not easy to handle and store
3. Dr A-Z LED Pocket Otoscope Adult Pediatric Disposable Specula Tips Case
No products found.
Another excellent otoscope that would perfectly fit into your clinic is the otoscope from DR. A-Z. The octoscope is made of scratch resistant body and is designed to offer excellent functionality and absolute protection. It comes with different disposable specula ideal for adult and pediatric use.
It comes with a handy case that is durable and designed to offer convenient storage. Most importantly, using this otoscope is pretty safe. The design is free from edges and even won't scratch the ear of the patient during diagnosis. It is a lightweight and easy to use a product that is portable and can be carried along to places. If you liked this product, you'll find similar stat-of-the-art medical equipment on Bestrateddocs, starting with our list of the most expensive hearing-aids available online. 
Pros
Pros
Excellently designed device that can precisely gauge the problem
Replaceable parts available online
LED display light ensure proper testing
Moderately priced product
Easy to use
Lightweight
Durable body
Cons
Cons
Not available with protective cover
Best Cheap Otoscopes For The Budget Conscious
Quality is an important factor when it comes to select the best otoscopes that you can use. However, the price of the product is also a vital feature to consider. If you cannot afford to spend fortune on an otoscope but still wish to purchase one that is reliable and functions well, then here we list the best and most reliable options under your budget to help you sort things easily. Here we list the best cheap otoscopes that include all important features for use.
1. DDP Premium Fiber Optic Otoscope Ophthalmo Examination Led Diagnos ENT White Color
With an easy to use functionality, this otoscope can help amateur and parents to diagnose easily the ear infections. It is suitable for adults and children and is perfect for a professional environment that does not need advanced features. Despite being cheap, this octoscope delivers outstanding performance based on fiber optic technology.
The resistant glass lenses and bright light capability make it easy to manage the job. It is easy to clean and does not need any complex instructions to follow. It comes with an instruction manual that explains all the functionalities and displays clear images that help you establish reliable initial diagnostics. If you are looking for similar products such as the otoscope for medical purposes, take a look at our list of the best nebulizers. 
Pros
Pros
A portable product
High-quality otoscope
Lightweight
Operates on the basis of the latest fiber optic technology
Displays high-quality images
Reliable product
Cons
Cons
Not suitable for in-depth analysis
2. Dr A-Z LED Pocket Otoscope Adult Pediatric Disposable Specula Tips Case
No products found.
Another excellent otoscope that would perfectly fit into your clinic is the otoscope from DR. A-Z. The octoscope is made of scratch resistant body and is designed to offer excellent functionality and absolute protection. It comes with different disposable specula ideal for adult and pediatric use.
It comes with a handy case that is durable and designed to offer convenient storage. Most importantly, using this otoscope is pretty safe. The design is free from edges and even won't scratch the ear of the patient during diagnosis. It is a lightweight and easy to use a product that is portable and can be carried along to places. Investing in the right medical equipment similar to an otoscope? We recommend you take a look a our list of the most expensive stethoscopes money can buy.
Pros
Pros
Excellently designed device that can precisely gauge the problem
Replaceable parts available online
LED display light ensure proper testing
Moderately priced product
Easy to use
Lightweight
Durable body
Cons
Cons
Not available with protective cover
3. RA Bock Diagnostics Pro-Oto
No products found.
This stethoscope was mainly introduced with an aim to ensure ease of use of a device while delivering outstanding results for common uses. It is not the best option, though it comes with all needed functionalities and features at a great price. It is perfect to diagnose regular ear infections in patients of all ages.
It gives access to LED light technology and comes with lenses that are easy to clean and well-maintained for proper use. Also, it is a moderate weight unit that comes with a soft case, and hence, is easy to carry. It is true value for money and perfect to meet reliable emergency diagnostic with ease. Looking for products and medical equipment similar to this? Check out our range of the best ultrasound therapy machines for home use.
Pros
Pros
Equipped with glass lenses
Highest levels of optical quality
Does not scratches easily
In-built LED light technology
Resembles daylight to not disturb the patient
Allows crystal clear images
Cons
Cons
Not meant for ultra-professional clinics
Best Digital Otoscopes
1. USB Otoscope-Ear Scope Camera, Anykit New Upgraded 4.3mm Diameter Visual Ear Camera HD Ear Endoscope
Anykit Ear Wax Removal Tool, HD Otoscope for Android and PC-NOT for iPhone/iPad, Ultra Clear View Ear Camera with Wax Remover, Ear Endoscope with LED Lights, Ear Cleaning Camera with Ear Spoon
PERFECT EARWAX REMOVAL TOOLS - this earwax removal kit is a ear cleaning camera with HD ultra clear view. This ear camera and wax remover will help you easily...
HD ULTRA CLEAR VIEW - 720P 1.3MP high quality Lens with color reproduction techonology. This ear cleaning camera provids user clearer image.
PLUG and PLAY Ear Camera-The diameter of this otoscope is only 0.17inch, allows easy entry to ear canal to examine eardrum.
ANDROID, MACBOOK, WINDOWS PC COMPATIBLE - NOT FOR IPHONE, IPAD. Android 4.5+ devices (support OTG & UVC function), USB-A, Micro-USB, USB-C supported.
BETTER LIGHTING for BETTER IMAGES - 6 LED Lights with adjustable light level for better and more realistic images.
It is one of the best digital otoscopes that come with a scratch resistant magnification lens. This implies that you don't have to fork out and replace the lens frequently, which can be the case with other otoscopes. Also, it is one of the largest otoscope models that would not fit into your pocket. Hence, it is a perfect model for medical professionals and students that want the capabilities of a full-size model along with easy portability.
The speculums are not disposable but they are of extremely high-quality and can be used to diagnose patients of all ages. It is a bright light model, but may not be able to deliver the performance that you can receive from other models. If you are looking for a digital otoscope at an affordable price, then this one is definitely an ideal choice. Improve your medical equipment with similar premium products by taking a look at our list of the best infrared thermometers.
Pros
Pros
Scratch-resistant magnification lens
Comes with hard case
Full-size model
6 LED Lights
Check ears with Android phones
Ideal for kids, adults, and elders
Affordable price
Durable
Delivers bright light
An indispensable home tool
Cons
Cons
Non-disposable speculums
Bright light might not be as bright as other models
2. ENTO Digital Otoscope
Pancellent Digital Otoscope for PC & Mac - Computer Connected Ear Inspection Camera
PC AND MAC COMPATIBLE – Simple and quick setup and use. Just plug in ENTO to your computer and open the built-in camera app to view a live image of the inside...
AFFORDABLE DIGITAL OTOSCOPE – The only affordable digital otoscope on the market today, the ENTO is a third of the price of its closest competitor, finally...
VIEW, SHARE & TRACK – View live video of your ear, capture photos and video, and even live stream video over teleconferencing software such as Skype. ENTO is...
FDA CLASS I DEVICE – This is a FDA registered device as required for all otoscopes sold in the USA.
We have to mention this super handy otoscope with a digital camera. With a plug and play compatibility without the requirement to install any drivers, this digital otoscope can work efficiently well with Windows XP, Mac OS, Vista 7, 8, 10. The otoscope enables you to save pictures and videos of ears, throat, and nose. Also, you can share such videos and photos with the healthcare experts for further assistance.
Related: Best Ear Endoscope
It is one of the finest models to diagnose health problems before they turn severe. Additionally, you can use the pictures to compare. It comes with 5.5mm digital camera that is small enough to fit conveniently inside the ear canal of children and adults. Most importantly, the 6 LED lights lining the camera tip offers plenty of light to view inflammation and obstructions in the ear. It is easy to clean and is one of the affordable choices available for use.
Pros
Pros
3-megapixel camera with 640×480 resolutions
Affordable USB otoscope
Hard case for easy portability
Digital camera compatible with Windows XP, Vista, 10, and more
Plug and play compatibility
Allows saving of videos and pictures of ear, throat, and nose
Resistant to water and soap
Easy to maintain
Usable with PC with a USB Port
Built-in LED
One-touch control button
Cons
Cons
Need basic training before use
3. KZYEE Wireless Otoscope Wi-Fi Digital Ear Scope 1080P HD Ear Inspection Camera
WiFi Otoscope Camera, KZYEE New Upgraded 1080P HD Visual Ear Scope Camera with 6 Adjustable LED Lights Earwax Removal Tool for iPhone Android Devices
【The Newest Dual-display APP Function】----Based on the latest dual- image display app technology, this otoscope app can sync show 2 different images at the...
【1080P HD Visual Ear Camera】----With this 1080P 2.0 megapixels wireless otoscope,you can enjoy a wonderful experience to capture HD video smoothly and get a...
【6pcs Adjustable LED Lights】----Equipped with 6pcs LEDs on the camera tip, you can gain more clearly images or videos by the adjustable button to improve...
【Protective Specula Sleeves】----Our otoscope comes with four specular tips in different size, which are heat-resistant even using it for a long time and...
【WiFi Connection】----Built with WiFi transmission, Our digital ear scope supports hotspot connection, not only can work with Android smartphone or...
Another excellent digital otoscope on our list is one with the newest dual – display APP function. This otoscope is based on the advanced dual – image display app technology that allows the app to sync and show 2 different images at the same time. It gives you a more intuitive and clear image to allow easy comparison between real and past-time.
With a camera of 1080P HD, this wireless otoscope captures HD video smoothly and allows getting sharp and clear full-screen image. In addition to this, it incorporates 6 adjustable LED light on the camera tip, which allows gaining more precise and clear videos and images by the adjustable button to enhance brightness in low or dark light condition. The otoscope is built-in with Wi-Fi transmission and comes with 4 specula tips in distinct sizes, which are heat resistant even when using it for a long time and suitable for the entire family. Be sure to check out our list of best examination gloves for more such great items like this.
Pros
Pros
Protective specula sleeves
Wide compatibility with Android or Tablet
6pcs Adjustable LED lights
1080P HD Visual Ear Camera
Dual-display APP function
Easy to Use
Adjustable brightness for low and dark light conditions
Great to capture snapshot and inspection
Cons
Cons
Best Otoscope Brands
You can always pick the top models from a reputed brand to ensure you get the best quality. But if you are unable to make a choice, then you can purchase otoscope from the most prestigious brands like Welch Allyn, American Diagnostic Corporation, Heine Mini, Depstech Digital, RA Bock Diagnostics, and Bionix.
Did You Know?
The otoscope can detect even the slightest change in the anatomy with its monocular view.
Buying Guide – How to Pick the Best Otoscope?
There are different types of otoscopes available on the market, and it is difficult for you to decide which one is perfect for you. The price of such otoscopes also differs, which can confuse you.111 Hence, we have gathered some basic information regarding the tips you can consider so that you can find the appropriate otoscope for yourself. We have recently added a post on some tips to buy the right otoscope, do check it out.
Size
The smallest otoscope is the size of a pen including a clip that allows the user to hold the otoscope in your pocket. Small size otoscopes are much lighter than full-size models.
The construction of small size otoscopes is not as robust as it is with larger otoscopes. So, when you select the size of the otoscope, you must consider the environment where you would be using it. Otoscopes with bigger size are ideal for hospitals while smaller ones are ideal for personal use.
Additionally, you must consider the type of patients you would be dealing with. It is because smaller otoscopes are used for children, while larger ones are perfect for adults and elders. The weight of the otoscope is also an important factor to consider when buying this device.
Features and Functions
Another vital factor to consider is the features of an otoscope. A standard otoscope is incorporated with a magnifying lens and a lamp that allows you to get a look inside the ear. There are some models available with removable lens, which is best-suited for examiners who want to use otoscope with a flexible lens.
In addition to this, there are various models available that allow pneumatic otoscopy with an additional port for an insufflation bulb. Also, some otoscope models come with the macro viewer with a standard head that helps to enhance the magnification up to 4 times.
Power Source
Another paramount feature of otoscope is its power. The otoscope can have three different sources of power – disposal batteries, rechargeable battery option, and a power source.
Otoscopes with disposal batteries are the most commonly used options as they make the otoscope portable. Otoscopes come with A4 size batteries that have to be changed regularly. Otoscopes with other types of batteries offer more flexibility in working.
Related: The most portable ECG Monitor
Otoscopes with rechargeable battery option are the highest in demand as it allows the user to use a single set of batteries for an extended time duration. The users can recharge one battery while the other is in use.
Otoscopes with a power source are available with a standard control option. Such otoscopes might not be easy to use but otoscopes with permanent wires have a bracket wall-mounting along the transformer for power supply.
Light Source / Bulb Type
It is essential that you got the perfect light source for your otoscope. Otoscopes can have varying light sources, like halogen, LED bulb, xenon, and more. Also, you must select an otoscope with a direct light source and an indirect source of light, or fiber optic.
Otoscopes with fiber optics help to direct the light from LED bulb or lamp. This helps the light to directly enter into the car canal and offer better clarity of inside the ear.
Reusable or Disposable Specula
Another essential factor to consider before buying an otoscope is to decide whether the examiner needs an otoscope with a disposable or a reusable speculum. Most of the otoscope models come with both the options, but it depends mainly on you that what type of otoscope you wish to buy.
It is wise to select an otoscope that is versatile and suitable for pediatric and adult use.
Price
Do pick an otoscope considering your budget. Medical students and parents can pick a simple otoscope that is cost-efficient, but medical professionals need to pick an otoscope, which is highly efficient, even though if it is expensive.
Color
Last but not the least you can always select your preferred color of the otoscope. Sure, the device is going to be used for medical purposes, but you can always select a color that appears good and classy.
Frequently Asked Questions on Otoscopes
What is the primary purpose of an otoscope? An ear examination is a part of the routine physical examination by a nurse or doctor. Also, it is done when an ear infection or another kind of ear issue is suspected. An otoscope enables the doctor to look into the ear canal and clearly see the eardrum.
What is the difference between Pro Fiber-optic LED otoscope and a traditional otoscope with a halogen bulb? A Pro Fiber-optic LED Otoscope is the first professional otoscope with the LED light source. The biggest benefit of an LED light source over other otoscopes, which uses halogen or incandescent light sources is that LED bulb does not contain a fragile filament. Also, the LED light source lasts forever and will not get damaged by dropping rough handling, or sudden movement. Also, the LED light source is much brighter and incorporates a full spectrum light rather than a yellowish light present in incandescent light sources.
What does an ear infection appear through an otoscope? The infection in the ear appears like a fluid in the ear through an otoscope. If the Eustachian tube in the ear gets blocked, fluid develops inside the middle ear. This creates a perfect breeding space for bacteria that can cause further infections. The otoscope can blow a light puff of air to make the eardrum vibrate.
Is it possible to see the inner ear through an otoscope? This is possible with a pneumatic otoscope, which is a specialized instrument used by doctors who need to make a diagnosis of the ear infection. If there is fluid in the inner ear, your doctor will witness no or little movement of the eardrum.
How to use the otoscope to look into child's ear? If your child is younger than 12 months, you can pull the ear gently straight back. This would straighten the ear canal and make it simple for you to see inside. Now, hold the otoscope from the handle with your pinky finger outstretched. Rest your pinky finger on your child's cheek while carefully placing the instrument in the ear canal.
Conclusion
While small children tend to be highly vulnerable to ear infections, elders and adults can get them too. An otoscope can help to check the condition before it becomes severe and complicated. No matter what medical profession you are in, an otoscope can be an excellent tool to perform ear checks. So, consider buying an otoscope for your home or clinic as there is a perfect option available for all!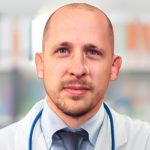 Dr. David Taylor is a medical professional and an avid blogger. He holds an M.D. from Drexel University & a Ph.D. from Indiana University School of Medicine.
Dr. David loves to utilize technology to improve healthcare and he does it daily through BestRatedDocs.com. He founded the company in 2016 with the vision to make the discoverability of the best healthcare facilities & best products simple and easy. His passion for informatics and using technology to empower healthcare professionals and the patients they serve is unmatched. He regularly blogs about technology, health IT, medical products and other healthcare topics at bestrateddocs.com.
Last updated on 2020-12-01 // Source: Amazon Affiliates