The Ultimate List of Best Forehead Thermometers
Be it a change of weather, an ongoing illness, or as a symptom of a disease, fever or chills can attack our bodies at any time. And to ensure we get the perfect dosage of medicine, it is essential to measure accurate body temperature, which can be done only using a thermometer. In this post, we will be analyzing the best forehead thermometers online, the pros and cons of these products, and more. Additionally, we will be noting down points to consider while purchasing a forehead thermometer and how to use the device correctly. 
A thermometer is common medical equipment available over the counter for use in every home. While the functionality of a thermometer is still the same, which is to measure precise body temperature, technology, design, and usability have advanced a lot.
Conventionally, there were regular oral thermometers available, with one being used by all members of a family – sick or not. Most of the times, these thermometers were full of germs and come out very unhygienic. In order to combat the limitations of a conventional thermometer and to offer accurate results with respect to measurements, one of the most innovative and reliable solutions is now available – Forehead Thermometers! As a bonus, you can check out our list of the best infrared thermometers available online to learn more, or continute reading to learn the basics and find the right forehead thermometer. 
What are Forehead Thermometers?
Forehead thermometers are touch-free thermometers that deliver accurate temperature measurements. It is 100% safe to use as it does not come in contact with anyone's body and therefore is completely germ-free.
If you think that using forehead thermometers is more difficult than oral ones, then you need to get your facts straight. Instead of being difficult, it is easier to use a forehead thermometer. You no longer have to check the dials as the results are displayed on the display screen and the temperature can be measured in just a single click.
Additionally, it is a perfect choice for a caretaker or a parent. We all are aware of how difficult it is to get hold of your child and keep kids still to check their temperature. With forehead thermometers, measuring temperature is a task of just a few seconds and can be done while they are asleep. 
Now that it is clear how useful, safe, and important a forehead thermometer is, it might be difficult to select one from the various brands available. For this reason, we have brought detailed information about the best forehead thermometers, turning your decision-making process into a more convenient one. Having such information in hand will help you make a well-informed and hassle-free decision.
In addition to this, we will provide you with the best tips to help you purchase the best forehead thermometer easily. As for medical experts reading through, we advise you to take a look at our detailed review of the 3M Littmann Classic III Stethoscope and improve your diagnostic tools. 
Did You Know?
Forehead thermometers are formally called temporal artery thermometers. This is because they are measuring the temperature of the patient's temporal artery.
Different Types of Forehead Thermometers
Forehead thermometers are very easy to use, but you must know about the different types in order to pick an appropriate thermometer for yourself. We have listed the types of forehead thermometers below with information that might help you decide on which one's best:
Such thermometers are available readily and are popular forehead thermometers. It has an LCD screen display and comes with easy to use functionality. The thermometer delivers high accuracy and is available in a variety of forms. Most of such thermometers also have alert lights and an indicator.
Such thermometers are known as Hennessey Venom of thermometers because they are the fastest of all types. It takes just 1-3 seconds to get the correct temperature. The thermometer measures the emitted head released by the body and displays the result on its display. But these thermometers are quite expensive as compared to the other ones.
Top Forehead Thermometer In The Market:
1) McAron Medical Forehead and Ear Thermometer for Baby, Kids and Adults – The digital thermometer gives you accurate readings, whether you place it on the ear or forehead.
2) Sheevol Beauty Forehead Thermometer – The unit requires no contact with the forehead and has a color alarm code over the LED screen.
3) DEGBIT Forehead Thermometer for Fever – Measuring the temperature of children can be difficult, but with Degbit, you can easily do it while standing at a distance.
4) Digital Infrared Forehead Thermometer No-Touch Thermometer – Take a reading while your child sleeps, with this silent but effective infrared thermometer.
5) Bimonk Digital Forehead and Ear Thermometer – The Bimonk Thermometer is reliable and comes with a promise of accurate readings when ever used. This products works great for adults and babies.
6) No products found. – With results in one second, this convenient device can be used in offices, hospitals, schools or even at home.
7) Digital Forehead and Ear Thermometer with Fever Alarm – Equipped with a large digital display, this product offers precise readings every single time.
8) Exergen Temporal Artery Thermometer – By taking 1000 readings per second, the Exergen is reliable, fast and very convenient for measuring temperature at a distance.
9) Awakelion Forehead Thermometer,Ear Thermometer – Awakelion's forehead thermometer is very easy to use and comes to you at an affordable price.
10) No products found. – A non-contact and on-point thermometer with immediate results, the LPOW is reliable and efficient.
10 Best Forehead Thermometers 
If you are planning to buy the best home ultrasound therapy machine then you could mess up with numerous options and choices available to you. To make things easier for you, here we list the 10 best home ultrasound therapy machines, which are highly effective and at the same time affordable.
1. Medical Forehead and Ear Thermometer for Baby, Kids and Adults – Infrared Digital Thermometer with Fever Indicator, CE and FDA Approved (Black/White)
Suitable for babies as well as adults, this digital thermometer is an excellent forehead and ear thermometer. This thermometer allows temporal artery temperature to be taken from the forehead or through insertion in the ear. The thermometer is easy to use and you can avail results with a press and click button.
It gives you fever warning when the temperature is more than 99.5 Degree Fahrenheit / 37.5 Degree Fahrenheit. It is easy to use at night with backlight in both Fahrenheit and Celsius. You can read the temperature in a second and can reuse it in every 10 seconds.  It stores the last 20 readings and the screen turns red if the temperature is high.
It is an FDA approved certificate and has been developed using the latest infra-red technology. Moreover, the thermometer comes with a storage case, which makes it easier to carry around. It is a user-friendly product where the results are displayed in just a single click. Improve your personal home medical response with one of the best first aid kits for your home, babies, travelling or for your car. 
Pros
Pros
Suitable for adults and babies
Instant Result
Perfect for Workplace and home
Backlight Present
Auto shut off technology after 10 seconds
The power lasts long for around 100 readings
Dual mode allows taking temperature twice at the same time
Power lasts long for 100 readings
Comes with storage case
Easy to use
Infrared technology
FDA approved
Cons
Cons
It can store just 20 readings
Best Forehead Thermometer for Babies
Babies need constant attention and care. A forehead thermometer is a great way to get an accurate reading of their temperature, without using the device directly on their forehead. Babies often get fevers and sometimes the best way to measure their temperature is while they are asleep. Here's our recommendation, which is silent, accurate and reliable.
2. Sheevol Beauty Non-Contact Digital Infrared Thermometer with Fever Health Alert LCD Display for Baby 
Now this one is an excellent forehead and ear thermometer from Sheevol Beauty. As the name suggests, this thermometer does not require any contact with the forehead. It also provides a color alarm while detecting temperature. 
You can use the forehead mode to measure temperature for people of all ages. The large LCD screen lets you read the temperature while your child is asleep in the dark. 
You will get accurate and reliable results with this device. Even, the durability of the product is praiseworthy. As per the brand, it is a clinically tested product, which has been upgraded over recent years. A great way to keep a tab on your oxygen levels in blood is using one of the best pulse oximeters in the market – take a look at our list. 
Pros
Pros
Colour alarm readings
Reliable and Accurate Results
Easy to Use
Celsius or Fahrenheit Option
Clinical Grade product
Infrared Scanning
Ideal for Babies or Adults
FDA Standard
Mute function available
Easy to Read
Cons
Cons
Cannot be used for ear reading
Degbit Forehead Thermometer
Reliability, durability and efficiency can only be found in trusted brands, and Degbit is a front runner. The forehead thermometer is FDA approved and comes with unique features that make it an outstanding device in it's category. Here are reasons why you need this thermometer:
3. 【FDA/CE Approved】BD DEGBIT Forehead Thermometer for Fever, 1s No Touch Ear Thermometer for Adults Kids Infrared Digital Thermometer Forehead Temperature Gun with Fever Alarm
DB DEGBIT Forehead Thermometer for Fever, 1s Ear Thermometer for Adults Kids Infrared Digital Thermometer Forehead Temperature Gun with Fever Alarm
US Stock - DEGBIT Thermometers uses infrared technology and can show readings in ℉ or ℃. To deliver accurate results and ensure excellent performance, we...
Quick and Easy - This professional ear and forehead thermometer give you two options: taking your temperature via the forehead with just a swipe. Or taking your...
Ideal for Use When Baby is Asleep - This infant thermometer for fever readings can be used in the dead of night without even switching on the light, the silent...
Best Choice of Family - The digital thermometer medical is designed for all ages, adults, infants, and elders. The handgrip rises to a new level of comfort...
No Purchase Risk - Premium materials and components were selected to ensure the ultimate experience of the users. Our thermometer support 7*24h customer...
Measuring the temperature of children is very difficult, even than babies. While you can hold babies and measure their body temperature, children would run away and get irritated whenever you want to take their temperature. But with this thermometer, you don't have to touch the forehead or ear of the patient and can measure the temperature from a distance.
Yes, it's right! You can measure the temperature without touching the ear of the forehead. You only have to hold the thermometer for 3 seconds in front of the ear or forehead. Moreover, it is useful to measure the temperature for adults as well. It is convenient to use as well as very easy to read. There is a light in the screen that comes in great help while taking measurements at the night on a regular basis.
You can get one click result and avail accurate reading with this thermometer. It is an FDA approved product that is recommended for users. The thermometer offers hassle-free functionality and allows you to store 20 readings in the memory. If you are looking for a diagnostic kit, you might want to take a look at our list of the best stethoscopes available online. 
Pros
Pros
Suitable for babies and adults
Reliable and efficient product
Hassle-free functionality
Easy to Read
Easy to Use
Precise Reading
Ear or Head Mode
Single Click result
FDA Approved
Easy to Use functionality
35 readings memory
Cons
Cons
It takes only 3 seconds time to get reading
Best forehead Thermometer For Adults
For checking adult temperatures, you need accuracy, and easy to use device that offers durability. During viral infections, you can measure a patients temperature at a distance and eliminate all chances of spreading the virus as there is no contact. Here's our top recommendation, the best forehead thermometer for adults.
4. Digital Infrared Forehead Thermometer No-Touch Thermometer. ˚C / ˚F Adjustable with Fever Alert Function, 3 in 1 Digital Medical Infrared Thermometer for Adults
This forehead thermometer is one of the best thermometers for adults. The thermometer comes with 3-functionality modes and has the ability to take the temperature of room, surface, and body. The thermometer allows taking the reading without having any contact. This feature is good against the contamination particular when you have to measure the temperature of more than one person.
The time taken and accuracy for the results may vary if you tend to use the thermometer multiple times in a go. It comes with non-contact infrared technology that helps to measure the temperature accurately without any contact. It is easy to use and safe product. Moreover, this forehead thermometer is easy to read and has a backlit present. There is also a three-light indicator and an auto power off mechanism, which makes it one of the finest forehead thermometers. Fevers can lead to body aches and pain, which is why having one of the best tens-units for instant pain relief can come in handy. 
Pros
Pros
Reads surface and room temperature
Accurate reading
Non-invasive
No probe cover required
Reads bath water, food, and babies bottle
Very hygienic
Backlit present
Auto power off
Three Light Indicators
Easy to Read and Use
Cons
Cons
Sometimes readings do not appearr instantly
Bimonk Thermometer
Bimonk is a giant in the world of medical equipment and offers you a state-of-the-art forehead thermometer that does not require any contact to check a persons temperature. The versatile thermometer can be used for adults or babies and it works quickly.
5. Bimonk Digital Forehead and Ear Thermometer, Infrared Forehead Thermometer, Non-Contact Digital Thermometer with Fever Alert Function, Forehead Thermometer for Baby and Adult
With the power to measure and display results in just a few seconds, the Bimonk forehead thermometer is a safe and fast product. This thermometer is famous as 'SSS' where the 'S' stands for its three different qualities.
The first 'S' describes the speed of this thermometer. It is because when you measure the temperature, you can get the response in just 1 second. The second 'S' describes the sanitary aspect of the thermometer. While using this thermometer you even don't have to touch the patient's forehead and can get the measurements.
The third 'S' describes the safety of thermometer. It comes with no – touch measurement technology that makes it free from unwanted contaminations, and hence, absolutely safe to use. Besides the three 'S,' the thermometer comes with modern infrared sensor technology that allows it to measure temperature from a distance. Here, the spot ratio is 12:1. Furthermore, you can try using a nebulizer to restrict the infection and make the patient feel better. Take a look at our list of the best nebulizers available online. 
Pros
Pros
It comes with an auto shut off in 30 seconds
The thermometer has a measurement range of -89.6℉ to 109.2℉ degree Fahrenheit
It has a distance to spot ratio of 12:1
It is safe and fast to use
The product offers enhanced safety and is germs free
Reads in Fahrenheit and Celsius
It is battery powered
Cons
Cons
In some cases, it might take a few seconds to deliver the response.
Best Digital Forehead Thermometer
Digital thermometers are easy to use and very handy for immediate situations that require temperature monitoring. Equipped with an LCD screen that lights up, our recommendation below is far ahead in it' category and is a great choice for doctors, nurses and other medical professionals.
6. Youmymine Non-Contact Forehead Thermometer Digital Infrared Body Temporal Thermometer (Orange, A)
No products found.
With a digital screen on the back, the infrared technology allows the forehead thermometer to detect accurate temperature. The device is easy to use. All you need to do is place the device over the forehead and press the button. It detects the temperature in one second, flat.
You don't have to touch the forehead of the individual as the infrared works wonders from a short distance. This allows the device to be used again on other people. The thermometer is easy to use and can be used in offices, schools, restaurants and households. It is easy to use for adults and children. While you are using the device on other people, we strongly recommend that you use disposable medical gloves to stay safe from infections.
It supports forehead or ear function. The readings are ℃ and ℉ which are easily switchable. The device requires 2 AAA batteries.
Pros
Pros
Accurate digital reading
Infrared Detection System
Silent Mode Operation
Can Measure Room Temperature and Object Surface
LCD Backlight
Suitable for everyone
32 Reading Memory
Three-Color Indicator
Quick and Reliable Results
Cons
Cons
If not used as per the instructions, then this can result in an inaccurate reading
Best No Touch Forehead Thermometers
Limiting contact between people can reduce the spread of a cold or virus. Using an forehead thermometer to check a patients temperature is much safer if the device works with out needing contact between the individuals. Here's our list of the best no-touch forehead thermometers you can buy today:
7. Digital Forehead and Ear Thermometer with Fever Alarm and Memory Function for Babies Children Adults Indoor and Outdoor Use
The main aim of a thermometer is to measure the precise body temperature and display it properly, and this digital thermometer is an expert in that. The large, digital display makes it very easy to read the measurements. Moreover, it delivers accurate temperature because it has patented technology. This technology allows catching the body temperature easily than regular one.
The thermometer comes with an innovative design. It has a touch mode to swipe the thermometer across the skin, and since it has a no-touch mode, so it is possible to measure temperature without any physical contact. You can also reduce reading errors by positioning thermometer accurately.
Also, it has a silent mode, making it perfect for temperature taking on toddlers and sleeping infants. Moreover, you can measure the temperature in two ways. The first way is the conventional method of touching the forehead and the second way is a non-invasive method where there is no requirement to touch. On a side note, keeping a track of your weight can help you stay healthy. Take a look at our list of the best analog bathroom scales. 
Pros
Pros
Easy to Read
Convenient to Use
Large Screen
No Touch Needed
Accurate Reading
Can be used to read forehead or ears
Silent Mode Operation
Non-Invasive
Quick
Easy to Use
Cons
Cons
Avoid taking multiple readings at a time as this can lead to misleading results
8. Exergen Temporal Artery Thermometer
Used in emergency rooms and medical offices across the world, the Exergen Temporal Artery Thermometer is a highly reliable and easy to use product. It makes temperature – taking a lot easier in general.
This thermometer is highly suggested by parents because of how easy and quick it is to use. Using this thermometer, allows you to take the temperature in just a few seconds. You can measure accurate temperature with a gentle forehead scan. It delivers accurate results and is recommended for the entire family.
It takes 1,000 readings per second and is the safest, comfortable, and most convenient product to use. Though using this product is very easy, it is vital, however, to familiarize yourself with the instructions and directions before using it. It is because improper handling can result in an inaccurate temperature scan. The arterial heat balance measures the accurate temperature. With red LED lights and soft beep indicate precise scan, it is an excellent thermometer suitable for people of all ages. Take a look at our list of the 5 most expensive first-aid kits money can buy to complete your reliable home medical kit. 
Pros
Pros
Easy and very simple to use
Temperature is displayed in either Fahrenheit or Celsius
It delivers accurate temperature when done precisely
LED Lights offer a clear display
Makes temperature-taking very easy
Cons
Cons
Improper placement can result in misleading results
It is essential to properly handle thermometer to get the accurate temperature reading
9. Awakelion Forehead Thermometer,Ear Thermometer –Digital Infrared Body Temporal Thermometer with Fever Alarm and Memory Function – Ideal for Babies, Infants, Children, Adults – HTF01B
While lacking numerous nifty features, which are available in other forehead thermometers, the Awakelion Forehead Thermometer offers the same basic functionality that is to scan temperature without any physical contact.
This product is very easy to use and can take up to three seconds to get the response. While there are other forehead thermometers, which can give you reading in one or two seconds, but then they are quite expensive than this one.
One excellent feature of this product is that it is water resistant. It holds an excellent body and holds great resistance to breaking. It is simple and comes with no extra features, but is an ideal product at an affordable price. For medical experts, we recommend taking a look at our detailed article on the Welch Allyn Diagnostic Set. 
Pros
Pros
Easy to use
Simple yet affordable
Water resistant
Excellent body holding resistant to breaking
Scan temperature without physical contact
Cons
Cons
Can take the temperature in 3 seconds while others can take in 1 or 2 seconds
Most Accurate Forehead Thermometer
Accuracy is the most vital feature a thermometer can have. Some thermometers take a second to produce results, while others take 3-5 seconds. The time is meaningless if the result is wrong. For a perfect diagnosis, you need the right temperature. And here's the right device to measure just that:
10. LPOW Forehead Thermometer for Adults, Infrared Digital Non-Contact Thermometer for Fever, Sutiable for Baby Kids Indoor and Outdoor Use with Instant Read
No products found.
The LPOW thermometer is a non-contact thermometer incorporated with infrared technology. It is a fast product that delivers accurate and on-point results. For this reason, this forehead thermometer is better than any rectal or tympanic thermometer. Usually, it can measure temperature from temporal artery temperature from a specific distance, around 3-5 cm from the forehead.
Since this thermometer does not require any contact with the body, so it has fewer chances of contamination. The thermometer comes with numerous advanced features, and one of them is the 3 modes of measurements. It can take measurements from the object surface, room, or body. Another excellent feature of this thermometer is that it is useful at the night time. It is because the thermometer comes with silent mode.
Additionally, it can save a maximum of 50 readings, which is ideal for a serial analysis. It is easy to use and offer alerts with backlights.  It is a non-invasive product that offers great hygiene, a color indicator, batteries, and LCD screen. Make sure you check out our list of the best bluetooth thermometers available online. 
Pros
Pros
FDA Approved
Non-invasive
Hygienic
Click and point functionality
Allows taking a reading from 3-5 cm distance
LCD Screen
Color Indicato
Offer Alerts with Back Lights
Easy to Use
Silent Mode makes it easy to use in the night
Cons
Cons
Important Things to Consider Before Purchasing the Best Forehead Thermometer
Buying the best forehead thermometer can be quite difficult, as there are varieties of thermometers available in the market. So, here are some points mentioned, which would be helpful to you in order to help you pick the best forehead thermometer.
There are numerous forehead thermometers available with extra features and innovative styles. In some cases, these thermometers might be difficult to use and handle. Hence, it is extremely important to check if the thermometer is easy to use or not. Always try to select a thermometer with features that you want and that have excellent user-friendliness.
Though infrared thermometers are the quickest, the regular thermometers take some time to get the response. For this reason, it is vital to check or know the correct response time before buying a thermometer.
The forehead thermometer delivers accurate temperature without touching the body of the patients. It is well-known for its good measurements and accuracy. Some of these thermometers keep records as well. Hence, pick a thermometer with a memory keeping option.
Forehead thermometers come with a big LCD display and it is vital for a thermometer to have such a display. If you are unable to read the measurement correctly then you must not purchase that thermometer. Hence, select a thermometer with a slightly bigger screen so that reading is much clearer.
Most of the forehead thermometers come with two or three colored alert lights, which indicate that the temperature is low, high, or fine. It is a handy feature that is useful even when there is no light.
Forehead thermometers come with an alert sign or an alert sound that shows when the thermometer is not held at the correct position. This feature comes in great help. Having knowledge about it will make it easy for you to use the thermometer.
The thermometer must come with a comfortable grip and must avoid accidents and hand strain. This is an important feature for users with shaky hands.
If you want to buy the thermometer for night time use then you must definitely consider buying a thermometer with silent mode feature. This way, the device is useful to measure the temperature for babies and kids while they are sleeping.
The thermometers with buttons are very easy to use and are the best forehead thermometers. Such thermometers prevent difficulties and strain and hence you must pick thermometers with one or two buttons.
Forehead thermometers come with no touch and are healthier and hygienic than conventional thermometers, which are used with contact. You don't have to clean them and they are even very easy to use.
Did You Know?
Non-Contact Forehead Thermometers provide results instantly. On the tiny screen, you'll see accurate results displayed in under 2 seconds and this can help diagnose the patients situation.
How to Use a Thermometer Accurately and Safely
Using a forehead thermometer involves swiping thermometer across the forehead of the patient, beginning in the middle of the forehead and sliding it to the side.
There is a science behind this that involves scanning the heat released from the temporal artery. Arterial temperatures usually have the same temperature as the blood flowing out and in of the heart, and this technique offers a reading close to the actual body temperature.
While this is mainly considered to be a very correct means of discerning temperature, there are a few things to keep in consideration that will help you get the best results.
The vital thing that you must consider when using a forehead thermometer is to make sure that you are familiar with the perfect way to use it.
Most forehead thermometers increase specific handling for obtaining accurate results. It is because most of these devices come with proper instructions. Also, it is vital to remember that certain things like sweating can lower the overall temperature of a patient's forehead and can impact the overall reading on a forehead thermometer. In this case, you must wipe off sweat from the patient's forehead with a cloth before taking their temperature. This will ensure that you get the most accurate reading as possible.
Do more with a forehead thermometer:
Forehead thermometers can be used to scan axilla, umbilicus or even the neck, besides the forehead. As long as you scan a part of the body which is not covered by hair, you can expect accurate results.
[/su_note]
Are Forehead Thermometers Accurate?
Forehead thermometers can last within 3 months to 6 years depending upon the quality of the product and brand you purchase. With a difference of 0.4 degrees + or -, the forehead thermometer is very useful or immediate results. Additionally, you don't have to come into contact with the patient when checking their temperature. Over all, they are very reliable and safe to use. For best results, try using the device over the forehead and the ear. For more information, refer to this article from Mayo Clinic, understanding your thermometer options.
Conclusion
Forehead thermometers offer more easy, accurate, and hygienic way of measuring body's temperature. You must consider the above mentioned guidelines while buying a forehead thermometer for yourself so that you are able to pick the best thermometer. Most importantly, do follow the instructions properly as this will make it easier for you to use the thermometer and help you get the accurate results.
So, select the best forehead thermometer as per your requirements and make the best use of it.
With the best ultrasound therapy devices mentioned by us in this post, it is possible to have an effective treatment to combat pain without painkillers and over-the-counter medications. The best portable ultrasound therapy machine can offer you drug-free treatment.
Just consider our best home ultrasound machine reviews, suggestions, and choices mentioned in this post, in order to bring the best ultrasound machine for home use.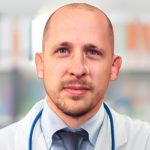 Dr. David Taylor is a medical professional and an avid blogger. He holds an M.D. from Drexel University & a Ph.D. from Indiana University School of Medicine.
Dr. David loves to utilize technology to improve healthcare and he does it daily through BestRatedDocs.com. He founded the company in 2016 with the vision to make the discoverability of the best healthcare facilities & best products simple and easy. His passion for informatics and using technology to empower healthcare professionals and the patients they serve is unmatched. He regularly blogs about technology, health IT, medical products and other healthcare topics at bestrateddocs.com.
Last updated on 2021-01-15 // Source: Amazon Affiliates