The Ultimate Guide to Best Crutches [Updated]
Since antiquity, people have fashioned support equipment to hold themselves up when they became injured or sick. One such support device is a crutch, which has evolved from the 'T' used by Tiny Tim in the famous Christmas Carol. Initially, crutches were introduced as aluminum braces with gripping tips that function as slip resistant and shock absorbers. But nowadays, there are varieties of crutches available in various designs and styles.
Crutches are mainly used by people with lower-limb injuries like broken ankle, broken leg, knee injuries, sprained ankles, and other issues on the ankle, foot, knee, and leg. These equipment decrease discomfort, reduce recovery time and support walking. Often when you get a cast on your foot or leg you would need crutches for a period of time. In addition to this, crutches are also used by people with disabilities that make walking difficult.
If you are looking out for the best crutches, then this post will share you the same. But additionally, this post will tell you everything about crutches – function, types, best ways to use, and how to pick the best one for yourself. So, read this post till the end to know everything about crutches.
Primary Functions
A crutch can primarily do two things – reduce weight load on the injured leg and enhance your support base to improve stability and balance. The support also must assist upright movement and transmit sensory cues via hands.
With a crutch, people with disabilities or paralysis of leg benefits of an upright posture and let them maneuver in a place where they cannot go with a wheelchair.
A crutch is essential for a person who cannot walk or walks with extreme difficulty. Any person with a foot or leg pain or injury, weak muscles or an unstable gait can benefit from using crutches. With an upright body movement, it is possible to move comfortably and this also prevents calcium loss from the bones.
Crutches shift the force or weight of upright movement from the legs to the upper body. But it is essential that you possess ample upper body strength or at least arm strength to balance, coordinate and use crutches effectively.
Types of Crutches
There are different types of crutches available in the market. All these crutches take the weight off the lower limbs and work in different ways. You can select an appropriate crutch only when you are aware of the different types of crutches.
Some of the popular types of crutches are as follows:
Also called as axillary crutches, these are usually used by people with short-term mobility problems. One part of the crutch is placed in the armpit against the ribcage, while the other section is held by the user with the hands.
Another common type of crutch is platform crutch, which is meant for people with weak hands resulted from conditions like cerebral palsy and arthritis. These crutches are used by holding a handgrip while resting the forearm on a flat surface. It is a less common type of crutch as compared to forearm and underarm crutches.
Another type of crutch is a forearm crutch that is also known as Lofstrand crutch. This crutch needs the user to place their arm into a cuff while holding the crutch with a handgrip. Individuals suffering from mobility issues or disabilities can select forearm crutches as compared to other types of crutches.
Hands-free crutches are the newest types of crutches that need the use of the hands to offer additional support to the user. The users simply rest their knee on the injured leg on the crutch. This form of crutch is not suitable for all conditions and needs some getting used to. It is a perfect choice for people who want convenience and independence with their mobility problems.
So, if you want to know the best types of crutches under various categories, then here find our comprehensive list of best crutches.
Best Forearm Crutches
Forearm crutches offer support to people with weak legs. Some of such crutches have platforms for added safety and stability. These crutches offer partial weight bearing support and hence are usually used by adults and children. Patients use these crutches by slipping each arm into a cuff and holding on to the grip of crutch. The cuffs are made of plastic or metal, and have an opening that allows the forearm to slip out if the person falls.
  1. Ergobaum Prime By Ergoactives Ergonomic Forearm Crutches
Ergobaum® Prime 7TH Generation by Ergoactives. 1 Pair (2 Units) of Ergonomic Forearm Crutches - Adult 5' - 6'6'' Adjustable (Blue)
Extensively designed to be the most comfortable and advanced forearm crutch available, the ERGOBAUM 7G is built for its users' needs first. Its premium design...
Highlights: Medical Grade Aluminum Material, Blue Color, Foldable Feature, Adjustable Handles, Adjustable Cuff & Height Settings, Non-Slip Ergocap High...
Specs: UNIT WEIGHT: 2.90 lbs USER WEIGHT CAPACITY: Up to 350 lbs USER HEIGHT RANGE: 5'0" - 6'6" CUFF SIZE: Standard CUFF WIDTH: 3.50" CUFF LENGHT: 7.00" GRIP...
Ergobaum 7G crutches were built for its users' needs first. Its premium design features an integrated, patented shock absorption system, fully adjustable...
Combined, each feature of the Ergobaum 7G crutches provides an unparalleled level of comfort and ease that is unrivaled by any other product on the market.
With a spring-loaded shock absorbing technology to reduce impact, this seventh generation Ergobaum foldable crutch is one of the best forearm crutch available for use. The crutch comes with crutch tips for extra balance and incorporates nighttime safety features, like a horn, light, and reflectors.
One of the best aspects of this crutch is a built-in keen rest platform, a forearm cup, and strap, as well as an adjustable cushion grip. The crutch is designed by an orthopedic surgeon crafter from medical-grade materials. Furthermore, the crutches are height adjustable. Hence, you can always adjust the height and use it for long-term and short-term use.
The crutch has been designed to offer ease the post-injury recovery and would eliminate our entire discomfort and pain. It is an excellent choice for people suffering from occasional traumas or those with a permanent disability.
Pros
Pros
Comes with additional safety features
Flashlight, horn, and reflectors
Adjustable straps ensure maximum comfort
Shock and knee absorbers facilitate comfortable walking
Medical-grade material usage
Facilitates comfort and enhance walking
Ideal for permanent disability
Cons
Cons
Require frequent greasing of shock absorbers
  2. Forearm Crutches by Vive
Sale
A perfect solution to reduce discomfort and pain, this forearm crutch by Vive is the next highly-efficient forearm crutch in our list. The crutch reduces fatigue and pain to a great extent and is usually associated with crutch use.
With a supportive design and ergonomic grip, the crutches are contoured to perfectly fit your hand. The best feature of this crutch is that it comes with non-marking and non-slip rubber tips. Most importantly, it incorporates a molded arm cuff and grip that contribute to further longevity and stability of the crutches.
With a push-button mechanism, adjusting the crutch length by one-inch increment is easy. The weight made of aluminum is lightweight and corrosion resistant and can conveniently support the weight of up to 300 pounds. The crutch comes in a stylish design and is perfect for people of all ages.
Pros
Pros
Stylish design with matte finish
Easy to use
Lightweight easy to handle
Unconditional lifetime guarantee
Push-button mechanism
Corrosion-resistant frame
Reduces discomfort and pain
Ergonomic grip
Reduces pain and fatigue to a great extent
Adjustable length
Comfortable wrist grip
Cons
Cons
People with smaller arms may find it uncomfortable for handling
3. Medline Aluminum Forearm Crutches
Medline MDS805161 Aluminum Forearm Crutches, Adult, Pack of 2
Telescoping parts are manufactured with internal bushings and external lock nuts to provide totally silent usage
Vinyl-coated, tapered, contoured arm cuffs
Heavy-wall, high-strength aluminum tubing
Black components hide signs of wear and scratches;Height Range: 5 - 6'2(Inches)
Tall Adult has a 250-lb. weight capacity, Patient height, 5'10"-6'6"; Adult has a 250-lb. weight capacity, Patient height, 5'0"-6'2"; Youth has a 250-lb. weight...
The next forearm crutch in our list is from a reputed company Medline. Because of its high-quality engineering and unmatched durability, this crutch is suggested for individuals with long-term disabilities or conditions. Hence, if you are looking out for a crutch that is sturdy and durable, then this one is a premium choice.
The crutch is loaded with numerous rich features including high-strength aluminum construction, contoured and tapered arm cuffs, black cuffs, and strong grip to hide signs of wear and tear. Additionally, it delivers total silence while use and the telescoping components include external lock nuts as well as internal bushings.
The crutch weighs around 250 pounds and is available in three different sizes. Swiveling arm cuffs can be customized to fit and serve any user. These crutches are easy to handle and efficient for individuals with postsurgical rehabilitation or slight injury.
Pros
Pros
Customizable swiveling arm cuffs
Availability in three different sizes
Easy to Handle
Efficient for people with slight injury
Long-term use
Durable and strong product
Well-designed solution
Value for money
Designed for silent usage
Cons
Cons
Non-articulated rubber tips
Not suitable for obese people
Best Underarm Crutches
Underarm crutches are ideal for people with temporary disabilities or injuries. Patients use these crutches by placing the pads underneath the armpits and holding the grip. Such crutches need less upper arm strength as compared to other crutches and need very little training. Also, these crutches cost less than other kinds of support crutches. Underarm crutches need proper fitting to prevent problems. It is essential to make important adjustment like the height of crutch and distance from the underarm to support proper handgrip.
  1.Life Crutch Adjustable Ergonomic Handles for Adult and Child
The Life Crutch - Universal Crutch| Ergonomic Handles | Articulating Tips | Supports up to 300 lbs | for Adults and Children with Heights 4'6" - 6'7"
STRONG CONSTRUCTION WITH COMFORT: The Life Crutch can support users weighing up to 300lbs and adjusted for any height between 4'6"-6'7. Our foam rubber padding...
ARTICULATING CRUTCH TIPS: Our Sure Foot Articulating Tips give greater stability on uneven surfaces and unstable ground. They are excellent on solid, indoor...
ERGONOMIC HAND GRIPS SET: The ergonomic positioning and design of the grips keep hands and wrists in their natural position, eliminating wrist pain and nerve...
GREAT FOR POSTURE: In addition to added comfort on the wrists and shoulders, our highly adjustable, ergonomic design allows for users to naturally walk more...
ONE SIZE FOR ADULTS & KIDS: With 19 height adjustments for the handle, our Life Crutch fits users with heights varying from 4'6" to 6'7'' (54" – 79"), making...
This elegantly designed, silver-colored life crutch by Millennial Medical is one of the premium choices available for users. The crutch is designed for individuals who wish quick recovery from any minor or major disability. It comes with an innovative design that would reduce underarm pain, sore wrists, and carpel Tunnel.
The ergonomic accessory is available further with adjustable height and supports height ranging from 4ft 6 inches to 6ft 7 inches. It is a well-built product that can withstand the weight of up to 300 pounds. Unlike the traditional type, the articulating crutch tip cover between 75-100% of the surface and enhances safety and stability.
The existing users find it easy to handle and love its lightweight of 3.7 pounds. The unmatched sturdiness, comfort, design, and easy to adjust functionality makes it one of the finest choices. Even, you would love the foldable design of the crutch.
Pros
Pros
Ergonomic design and ergonomic handles
Comfortable to the wrists
Articulating crutch tips
Strong engineering
Excellent for short-term use
Fits well to the users
Enables 19 height adjustments
Elegant design
Lightweight of 3.7 pound
Enhances stability and safety
Cons
Cons
Not ideal for too-short individuals
  2.Hugo Mobility 721-790 Hugo Lightweight Adjustable Aluminum Crutches
Hugo Mobility 721-785 Hugo Lightweight Adjustable Aluminum Crutches, Medium Adult
These crutches are lighter than wood and are manufactured from lightweight anodized aluminum, supporting up to 300 pounds
Hugo medium adult size, adjustable crutches can accommodate a user height of 5' 2" to 5' 10" and feature dual push-button adjustments
Contoured crutch tips that feature a curved stair deflector at their tip, provide exceptional traction while a built in metal ring protects against premature...
Hugo crutches feature thick cushioned underarm pads. Integrated metal ring prevents premature wear
Washable hand grips made from a natural sponge cushioning absorb impact shock and are perspiration resistant
If you weigh more than 300 pounds and is between 5ft 2 inches and 5 ft 10 inches, this lightweight crutch would be a perfect addition to you. The crutch is engineered from sturdy and lightweight aluminum and offers excellent support and enhanced stability to the hefty users.
An incredible feature of this unit is that it features a dual push-button mechanism for adjusting the height. In addition to this, it comes with contoured crutch tips for optimal traction and grip. Most importantly, it has thickly cushioned underarm pads that enhance stability and comfort and washable natural sponge handgrips.
The crutch has a handle height varying from 3ft 8 inches to 4ft 4 inches. It feels solid but the adjusting mechanism is simple and lightweight. It features dual push-button adjustments and offers exceptional traction with built-in metal ring protects against premature damage.
Pros
Pros
Lighter than wood
Engineered from lightweight anodized aluminum
Dual push-button adjustments
Features curved stair deflector
Offers exceptional traction with Built-in metal rings
Thick cushioned arm pads
Adjustable height
Contoured crutch tip
Easy to manage handle height
Natural sponge handgrips
Cons
Cons
It would not fit perfectly with tall users
  3. Drive Medical Aluminum Crutch with Comfortable Underarm pad
Drive Medical Aluminum Crutches with Comfortable Underarm Pad and Handgrip, Gray, Pediatric
Comfortable, durable underarm pad and hand grip
Underarm Height: 31.5"-37.5"; Recommended User Height: 48"-54"; Weight Capacity: 175 lbs
Easy wing nut adjustments for hand grips with push-pin adjustments for crutch height
Double extruded center tube provides additional strength to weight-bearing areas
Lighter than wood, the standard aluminum crutches provides stability and durability (1Pair)
With an added functionality to offer more comfort underarms, this is the next best underarm crutch in our list. The feature that makes this crutch unique is that it is ideal for pediatric. The comforting hand grip makes it perfect for long-term handling.
The underarm height of the crutch is 31 inches to 40 inches and for this reason, it is recommended for users with a height of 48 inches and 54 inches. Furthermore, it can manage weight holding capacity of 174lbs, which makes it an ideal solution for people with moderate weight.
The crutch further comes with easy wing nut adjustments for enhanced hand grip.  Also, you can adjust the crutch height with push – pin adjustments. While the double extruded center tube offers additional strength to weight-bearing areas, the aluminum frame construction provides more durability and stability. The jumbo size, non-skido vinyl contoured tips offer excellent traction.
Pros
Pros
Durable and comfortable underarm pad
Comfortable hand grip
Easy wing nut adjustments for hand adjustment
Push-pin adjustment for crutch height
Excellent weight holding capacity
Lightweight
Standard aluminum construction offering more durability
Non-skid vinyl contoured tips
Cons
Cons
Not meant for people with taller height
Best Platform Crutches
Platform crutches are sized for adults and have a platform that attaches to the top of the crutch. These crutches act as a padded armrest with hand grip. It is useful for those who are not able to straighten arm to grip the hand and hold the crutch. Such crutches allow holding a grip while the forearm rests on a horizontal platform. These crutches are commonly used by individuals with a weak hand grip due to any injury or medical condition. Here, check the best platform crutches for every budget.
  1. Walk Easy Adult Platform Crutch Blue
Another excellent feature of this crutch is that it is made of U-shaped Velcro band that offers convenient carrying of the crutch. Besides an adjustable feature with a single bolt, the crutch can serve people with permanent and temporary disability.
Pros
Pros
One of the best adult platforms
Cost-efficient
Available with adjustable height
Ideal for obese and hefty people
Velcro sleeve offer a proper grip
Contoured grip angle
Does not need assembling
Grip cover for more firmness
Cons
Cons
Not suitable for individuals of too short height
  2. Forearm Crutches, 1 Left Hands-Free Crutch Cane with Ergonomic Design – Single Walking Support Crutch, Adult Fit (4'11"- 6'8") Adjustable Crutches, Mobility Support Injury/Disability/Elderly (Black)
Forearm Crutches, 1 Left Hands-Free Crutch Cane with Ergonomic Design - Single Walking Support Crutch, Adult Fit (4'11"- 6'8") Adjustable Crutches, Mobility Support Injury/Disability/Elderly (Black)
FUNCTION & COMFORT - M+D Crutches are special hands free crutches designed to provide maximum comfort and mobility support. Unlike standard underarm crutches,...
MAXIMUM MOVEMENT – Reach farther! With a hinged arm cradle that can be unlocked and crutch grips that rotate out of the way, these ergonomic crutches free...
FULLY-ADJUSTABLE FIT - Made to Fit YOU! These fully adjustable crutches can fit users from 4'11" to 6'8" in height. The cradle length is also adjustable with...
EASY & STEADY GRIP - Ergonomically Designed to fit either your left or right hand, the M+D Crutch is color coded and has a braille dot so you can easily know...
SIMPLE SETUP – These forearm crutches can easily be assembled at home. The Mobility Designed website provides a complete set of training manuals and videos to...
This is another highly efficient and robust platform crutch in our list. The crutch is a durable product with strong grips at the end. In addition to single side to side handle adjustment, the platform crutch offers vinyl hand grip. Hence, users can expect unmatched comfort while using this product.
Moreover, it comes with a hook and loop fastening system as well as easy to change pad, which ensures that using and adjusting this crutch is extremely comfortable to the user. The crutch is made of a flexible anti microbial material which provides maximum support.
This platform crutch is suitable for people from child to young ages. The best part is that it is a foldable product and hence you can store it conveniently, without occupying much space, while not in use. Also, the hinged arm cradle can be unlocked for maximum range of motion.
Pros
Pros
The hinged arm cradle can be unlocked for maximum arm movement
Side to side handles adjustment
Ergonomic hand grip
Hook and loop fastening system
Comfortable to the user
Shock absorbing grips
Foldable and needs less storage space
Can be used on any terrain
Cons
Cons
  3. Ergodynamic Forearm Crutches by FDI (Size: 4'7-6'8) 1 Pair/2 Crutches/Black/Lightest Crutch with an Integrated Shock Absorber (M (132-198lbs) Spring Rate)
A simple and elegant design, this platform crutch is engineered to with high-quality materials. It is available in black color and has a weight holding capacity of 130kg. Soft replaceable forearm pad and soft replaceable grips are just some of the characteristics of this product.
These are the lightest crutches in the world and it comes with shock absorbers. In addition to an adjustable functionality with a single bolt, it can serve people with permanent or temporary disability.
Pros
Pros
Perfect platform for adults
Affordable
Has a weight holding capacity of 130 kgs
Perfect for hefty or obese people
Has shock absorbers
The crutch is very light
Does not require assembling
Grip cover for firmness
Cons
Cons
Not meant for people with too short height
Best Hands-Free Crutches
Holding crutches with hands can be slightly discomforting and even it keeps your hands engaged. To make sure your hands are free and that you are able to do everyday tasks easily, hands-free crutches are the best solution. Such crutches are primarily used for below knee injuries. It offers you pain-free and hands-free mobility and gives you the ability to live an independent and functional lifestyle. So, check here the best hands-free crutches that would work better for you.
  1. iWalk 2.0 Hands-Free
iWALK 2.0 Hands Free Crutch - Pain Free Knee Crutch - Alternative to Crutches and Knee Scooters
CAN YOU USE IWALK2.0? – BEFORE YOU BUY, let's find out! Read this entire listing to determine if you meet the QUALIFICATIONS FOR USE.ualifications for use.
WILL IT FIT? AGE LIMITS? PLUS SIZE? Please read the ENTIRE LISTING for all requirements BEFORE you buy.
BETTER THAN CRUTCHES OR KNEE SCOOTERS - Safe, stable hands free / pain free mobility. Why use crutches for walking when you can iWALK instead?
QUALIFICATIONS FOR USE - Read the entire listing! iWALK works for most people, but not everyone.
SO MANY BENEFITS - Crutches and knee scooters have so many limitations Have a functional recovery on the iWALK crutch. All the benefits are on this listing.
Now this one is seriously a revolutionary product and perfect if you are tired of using the normal crutches. In addition to offering better functionality, the iWalker2.0 is the best choice for the modern users. It comes in a unique design and offers better balance and support.
It is a knee scooter that gives you a hands-free experience. With minimal effort, you can move around this crutch with ease and to distant locations. The accessories available with it are used by people with a height between 5 ft and 6ft 4 inches. It can work well with leg either right or left and features a quick-release strap for convenient removal.
With the padded knee surface, the crutch is highly comfortable. It is an effective and well-built product that is easy to assemble and simple to use. The crutch is extremely comfortable to use, but not fit for obese or elderly people.
Pros
Pros
Hands-free experience
Unique design for better balance and support
Needs minimal effort to move
Suitable for either leg, left or right
Quick release straps for convenient removal
Comfortably padded knee area
Well-built and effective design
Easy to assemble
Simple to use
Cons
Cons
Not fit for obese or elderly people
  2.Medical Knee Scooter for Broken Foot by HEALTHLINE, Knee Walker Scooter with Handle Brake and Basket, Crutch Alternative, Steerable, All Terrain Knee Scooter, Blue
Another premium quality hands-free crutch in our list is from a reputed brand Healthline. The product helps maintain balance and it is an easy solution for most walkers. You can also purchase a non-slip cover that keeps it firm in place and reduces friction to a great extent.
It is a high-quality product, which can withstand regular wear and tear. Furthermore, the seat is easy to clean. Seat covers made of faux sheepskin material that provides more comfort to the knee without irritating the skin and enables air to circulate freely around the lower leg and knee are available and can be attached to the seat.
With an extra layer of soft cushioning, it can evenly distribute the pressure on lower leg and knee and hence relieves pressure and pain.
Pros
Pros
Easy to use
Can attach non slip cover over the seat
Easy to clean
Comes with a basket in the front for convenience
Withstands daily wear and tear
Evenly distributes pressure on lower leg and knee
Relieves pain and enhances comfort
Cons
Cons
Not suitable for people with severe injury
3. Air Cam Walker / Cast Boot with Shock Absorbers
Air Cam Walker/Cast Boot with Shock Absorbers (Fracture Boot) - L/XL (11.5-16 Adjustable)
Product Description:Shoebaum is the world's first patented Air CAM Walker with loaded spring shock absorbers that reduce the impact of the injured leg with the...
Product Innovation: Shoebaum Walker Boot replaces the conventional, smelly cast, as the patient does not require a "regular" cast. Sizing: One-Size-Fits-All...
Product Benefits: With the Shoebaum Walker Boot, patients with fractures do not require a cast, just a Shoebaum. The sock inside the Walker Boot is disposable....
Product Technology: Special Dynamic Three Module Shock-Absorbing system (Heel-flat-toe) that reduces the impact of the gait on injuries, promoting the fast...
Product Unique Features: Embedded air pressure pump with a release valve to inflate areas of the sock that provides a better distributed support and comfort,...
Well, this one is definitely not a perfect crutch, but the first patented Air Cam Walker loaded with spring shock absorbers that reduce the impact of the injured leg with the ground while walking. As a result, the fatigue and pain in the injured leg are greatly reduced.
It is an excellent product that replaces the traditional, smelly cast, as the patient does not need a regular cast. It is perfect for patients with a fracture who do not need a cast. In addition to disposable sock inside the walker boot, it is based on dynamic three module shock-absorbing technology that reduces the impact on injuries. It, therefore, promotes fast recovery among users.
Additionally, it is an effective solution for lower limb rehabilitation and an excellent post-operative immobilization device. Also, it is great for patients with diabetic neuropathies as it substantially reduces compression of microvascular structure of ankle and foot.
Pros
Pros
Convenient Velcro straps
Easy front access without affecting immobilization
Toe-bumper system
Impact-absorbing and Anti-vibration EVA sole
Disposable Sock
3 Module Shock-absorbing technology
Embedded air pressure pump to release valve in inflating areas of sock
Comfortable to the foot
Enhances mobilization
Cons
Cons
Best Brands for Crutches
A crutch is best when it is comfortable, stable, and durable. The role of the crutch is to make recovering from an injury easier as well as managing chronic disability simpler and easier. Good crutches enhance balance and stability, absorb impact, and offer users great peace of mind.
Some of the best crutches brands on the market are Ergoactives, iWalkFree, Vive, Hugo Mobility, Medline, Mobilegs, Drive Medical, Millennial Medical, Wes Care Supplies, and Carex Health Brands. So, if you have any confusing regarding the crutches brand and type, then you can definitely go for a crutch from any of these brands.
Best Ways to Use Crutches
Might be, it is possible that you brought a high-quality and one of the best crutches available in the market, but are not able to use it properly. So, this section would tell you about the various ways to use crutches efficiently and in the best way.
Sizing the crutches
The first important thing is to properly size crutches so that you can use them comfortably without experiencing problems. The crutches you have brought may need certain adjustment for height. Make sure the crutch is two inches below the armpit when you are standing straight.
Further, the handles must be at a hip height so that your elbows slightly bent when holding them.
Check the Grips and Padding
The next thing to use the crutch properly is to ensure they have are comfortable on the armpit grips and especially on the base in contact with the floor. If needed, then get these parts replaced by a medical store, which would be a case if you are using an old crutch. Without enough padding, you would start feeling the pain and discomfort.
Getting Up from Chair
To get up from the chair you need to place both crutches in the hand on the affected side. For example, if you are injured on left leg, grasp or hold both the crutches by the handle with your left hand. Hold the hand rest of your chair with the other hand, and the crutch handles in your hand. Place your weight on the uninjured leg and push your body up with the arms.
Walking with Crutches
Always take short steps while walking with crutches. The steps must be about 18 inches. While supporting yourself with hands, let your body swing forward in a way you were going to move with the injured leg. But rather than placing weight on the injured leg, you must place the weight on crutch handles. Do not allow the crutch top to touch your armpit. Provide support to your body with your hands.
Moving Up Stairs
You can move up to stairs with crutches in two different ways:
Way 1 – Stand close to the step and place the crutches on ground level. Put your weight on the crutches and pick the uninjured foot up first. Then bring the crutches to the step level and put up your injured leg. Repeat the same for each step.
Way 2 – Alternatively, if there is a handrail then you can take the support of it. For this, you can hold both crutches in the hand and hold handrail with the other hand. Again, repeat the movement with uninjured leg.
Stepping Down the Stairs with Crutches
This technique is for people who cannot bear weight on the injured leg. You first have to hold the foot of your injured leg up in front and move down each step on the good leg. Make sure you support yourself with the crutches held in front of you while you move on the next lower step. Alternatively, you can use handrail on one side and hold crutches on the other side with your hand. It would be wise if you take someone's assistance during initial days, particularly when you look good upper body strength.
Additionally, never let your armpit rest on crutches, even when you are resting.
When moving up and down stairs, take one step at a time to avoid experiencing any hassle.
While standing, place the crutches 8-10 inches in front of you.
Additional Accessories 
There are varieties of accessories available for crutches to enhance the convenience, usability, and comfort of the user. No matter for how long you would be using the crutch, or whether you are suffering from temporary or permanent issues, investing in accessories for crutches can enhance its overall use.
Crutch bags
The crutch bags are elegantly designed bags that can be attached to one side of some sorts of crutches. These bags offer a convenient space to store your wallet, keys, medication, snacks, and other important stuff.
Crutch Tips
Another excellent accessory that can be used with your crutch is crutch tips. These tips can offer an extra support and stability to the users. At the same time, it reduces the impact on the hands and arms. Also, crutch tips are great to prevent damage and scratched to your floors.
Crutch Pads
If you want to reduce underarm pain and alleviate discomfort caused by an axillary crutch, then always select a crutch with adequate padding. These crutch pads are perfect for bruising, chafing, or rashes, and can always upgrade to add more comfort to the users.
Crutch Cover
Another type of crutch accessory, which can provide comfort and further aids in healing is crutch cover. This crutch cover fits all standard sizes and is one of the finest crutch accessories available.
 Buying Guide – Things to Consider when Buying Crutches
It is extremely vital to pick an appropriate crutch for yourself. The crutch must provide you enough support and at the same time must be comfortable to use. To ensure you pick the best crutch, here we present the buying checklist that you must consider.
Understanding Different Types of Crutches
You must have a complete and clear understanding of different types of crutches available. You can check the products mentioned in our list in order to understand how different types of crutches work.
On the basis of this, you can shortlist crutches that have all the features that you are looking for in your companion.
Strength
Sure you would not want to tumble while using your crutch and this can happen if your crutch is not strong enough to support your weight. Also, if your crutches are not as per your body weight, then you would always fear of falling down.
Hence, before you buy a crutch do check its weight limits and the body construction. The crutch must easily withstand your weight and at the same time must be durable and strong. This will ensure that your weight is well-supported and you feel safe and secured when using these crutches.
Weight
Buying strong crutches does not mean you pick the heaviest one around. Even lightweight crutches with robust construction are strong enough to hold your weight.
Therefore, look for a set that is relatively lightweight and makes it easier for you to get around when you are moving with the crutches.
Comfort
Yes, using crutches can be a discomfort initially, but if over time the discomfort continues then probably you have invested in a wrong pair. To make sure this does not happen with you pick crutches that are mentioned to offer maximum comfort. Also, you would want to make sure that they are of an appropriate height and can be adjusted so that you can keep them at a height comfortable to you. For this, you must consider trying different pairs of crutches so that you can select one that you feel is the most comfortable for you.
FAQs
  Q. What is the acceptable size of crutches for kids?
  A. Teens or high school children can use adult size crutches. But if your child is smaller, then we would suggest using pediatric sized crutches, as they are the most appropriate ones.
  Q. I am too tall. Can I find a pair of crutch suitable for me?
  A. Whether you are too tall or too short you can definitely find crutches as per your height. Also, there are crutches available with height adjusting mechanism that allows you to adjust the crutch height as per your requirement.
  Q. For who are forearm crutches the most suitable?
  A. Forearm crutches are usually not suitable for people in poor health, have reduced the strength or challenged by long-term ambulatory activities like poor balance, navigating uneven surfaces, and more. People who are significantly overweight are not perfect candidates and can be better served with other mobility equipment.
  Q. What injuries do we need to use crutches?
  A. You need crutches if you experience injuries like a broken toe, knee dislocation, broken ankle, ankle sprain, hip replacement, knee injury, fractures, or muscle strain.
Final Words
Buying crutches is not a thing that you would take lightly as might be you could end up using crutches for weeks or even longer. So, you must check the best crutches mentioned in our list and at the same time consider all the factors when shopping for crutches to ensure that you find the most appropriate and comfortable set possible for using while you are recovering from a surgery or an injury.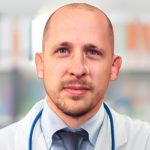 Dr. David Taylor is a medical professional and an avid blogger. He holds an M.D. from Drexel University & a Ph.D. from Indiana University School of Medicine.
Dr. David loves to utilize technology to improve healthcare and he does it daily through BestRatedDocs.com. He founded the company in 2016 with the vision to make the discoverability of the best healthcare facilities & best products simple and easy. His passion for informatics and using technology to empower healthcare professionals and the patients they serve is unmatched. He regularly blogs about technology, health IT, medical products and other healthcare topics at bestrateddocs.com.
Last updated on 2021-01-25 // Source: Amazon Affiliates