14 Best Ankle Braces for Sports, Sprains & Everyday Use [Updated]
Exercise is essential for every one of us. It's not just become a trend; it's a lifestyle. But we often take our body's abilities for granted and jump into activities without being fully prepared. By wearing the best ankle braces or even the best back braces, you slowly cut the level of injury that could occur. There are different parts of your leg from your shin to your toes that connect via nerves and bones. Damage to any of these could lead to severe injuries for the entire foot.
A right ankle brace can reduce pain and allow you to perform better in sports. They are very beneficial, and today, athletes use them as a precaution rather than a cure for an injury.
What Is An Ankle Brace?
The ankle brace is a product used to keep the ankle in a single position so that it does not move. People wear this product to avoid injuries that are caused by sports accidents where the ankle gets sprained. But today, there are several brands and types of ankles braces available on the market which people use for different ailments. As a result of this, the product is evolving into a more comfortable and convenient zone.
How Does An Ankle Brace Work?
By keeping your foot from moving around, the brace keeps your ankle steady and allows it to heal at its own pace. However, it will enable you to move around and continue normal activities while drawing your foot into a safe position every time it gets away. The ankle brace today is a medical marvel. It compresses your foot and improves circulation, which is right even if you do not have an injury. It is encouraged in sports as prevention to damage and a booster for performance.
Types Of Ankle Braces
Lace Compression
For Athletes, it is vital to be able to keep your foots range of motion open. However, rolls and sprains can happen at any time if your foot does not return to its anatomically correct position after sudden movements. For this reason, the lace compression type of ankle brace can keep your foot steady while also letting you move around freely. Some come with straps for extra compression. 
Aircast Ankle Braces
If your ankle has to be still to recover from an injury, the Aircast ankle brace is the best choice. It is light and steady and keeps your ankle from moving. You can take part in sporting activities, but you will have limitations in movement. It is prescribed during times of rest and is best suited for sprains and swellings.  
Regular/ Daily Use Ankle Braces
The most common ankle supports are the Daily Use braces. They are straightforward to put on easy to take off. They are thin and are used in footwear. You can use them to provide stability to your foot while walking or running. They are suitable for people who have recovered from sprains but want a complete range of motion. 
Best Ankle Braces For Severe Injuries
Maximum Support Ankle Braces
With tight velcro straps, lace, and additional padding, these ankle braces are for athletes who jump and have sudden movements in their sports. It completely avoids any sudden tear or injury to the ankle. It is used in treating Plantar Fasciitis and other problems related to the ankle and foot. 
Hard Shell Protection Ankle Braces
If you have recovered from a severe fracture and need to protect your leg from recurring damage, the hard shell ankle brace does the job. A hard shell connects your entire shin and foot with straps that keep a check on the movement. Most of these products have shock absorbers on the base so you can walk without any injury or pain. 
No matter how good you are at the game, consider using an ankle brace to avoid sprains or tears. Here are our recommendations for the best ankle braces online. 
Top Ankle Braces – Our Recommendations
Best Ankle Braces For Sports Injuries
Best Ankle Brace For Basketball
1) Mcdavid Ankle Brace
McDavid 195 Deluxe Ankle Brace with Strap (Black, Large)
PREVENTS and/or helps RECOVER from common ankle sprains
SUPPORTIVE Design simulates athletic tape with figure-6 strapping pattern
COMPRESSION and COMFORT top strap for custom fit
ADJUSTABLE without unlacing or removing shoe
BREATHABLE ventilated tongue
A recent research showed that the McDavid Ankle Brace reduces injuries 3x more times than other ankle braces while being used for basketball. This is a significant number because the sport not only requires you to constantly jump, but also make sudden movements with bursts of speed. By shifting your body weight from side to side, you transfer the weight from one ankle to the other and this takes a toll on your ankles as time passes. But with a rating of four and a half stars on Amazon, the McDavid keeps your feet firm on the ground with the confidence to push and perform better, every time. The product has both straps and lace to keep your foot and ankle intact. Besides prevention, it also reduces pain from swelling, sprains, and other related injuries that could deter your performance in game. 
Features:
Adjustable lace and strap 

Comes in Three Colours – Grey, White, Black

Prevents Ankle Sprains and reduces injury

The brace is comfortable and does not hold sweat

Athletes that used this product have had 3x lesser ankle sprains, according to a research university. 

Can fit left or right foot.

Applies maximum compression with proper ventilation to prevent any kind of smell. 

The ankle brace is very and is great for running on the field and in the diamond.
Best Ankle Brace For Running 
2) POWERLIX Ankle Brace Compression Support Sleeve
Sale
POWERLIX Ankle Brace Compression Support Sleeve (Pair) for Injury Recovery, Joint Pain and More. Plantar Fasciitis Foot Socks with Arch Support, Eases Swelling, Heel Spurs, Achilles Tendon
PHENOMENAL PROTECTION: PowerLix ankle braces apply even pressure across your ankle joint, which provides ultimate pain relief from a variety of ailments...
PUSH YOURSELF TO THE LIMIT!: Our ankle supports are the perfect fit for any activity requiring ankle movement, including Baseball, Basketball, Soccer Golf,...
PREMIUM QUALITY: Our ankle sleeves are manufactured to provide superior support, comfort, and relief without compromising your mobility. Tight, form-fitting and...
BREATHTAKING DESIGN & PERFECT FIT: Whether you've got meaty ankles, or are a little bit slender, we've got a fit for you with the Special knitted technical...
100% MONEY BACK GUARANTEE- We truly want you to be happy with your new ankle braces and our professional customer service will do whatever it takes to ensure...
Running is a great way to stay in shape and also improve your performance in sports. Often, people tend to reduce the distance they run because of swelling or injuries along the feet. If you run five miles everyday, you are going to improve your stamina at the risk of a shin splint and an ankle sprain which could lead to Plantar Fasciitis. The Powerlix Support Sleeve uses a thin material to keeping your feet undisturbed in footwear for comfort, while holding your feet firm as you run. The compression offered by the sleeve increases blood circulation and offers and improves performance. The breathtaking design allows you to move freely without worrying about your ankle being held in place. The Powerlix ankle brace lets your feet breathe and recover quickly. 
Features:
Superlight and easy to put on

Good compression for running

Does not limit the full range of motion

Incredible quality

Keeps your foot intact and improves blood circulation

Smooth and soft Neoprene Material

Comes in fashionable designs and colors

6-months guarantee with 100% money back if you are not satisfied
Best Ankle Brace For Soccer
3) Zamst A2-DX Strong Support Ankle Brace
Zamst A2-DX Ankle Brace, Black, Large - Right
ANATOMICALLY CORRECT SUPPORT: Our advanced ankle brace is engineered with dual molded EXO Grid support technology for enhanced medial and lateral stability.
ADJUSTABLE FIT: Our Ankle Braces offer adjustable fasteners to provide an individualized fit, enhanced comfort, and variable compression; Choose a size based on...
ANTI-ROLL AND ANTI-SPRAIN: Our Zamst Ankle Brace automatically correct the support with our A FIT technology to provide anti-roll and anti-sprain care for your...
ANTI-MIGRATION: Our Grip Tech ensures strong anti-migration that keeps the ankle from rolling inward and outward.
THREE WAY SUPPORT: The X STRAP design stabilizer provides three way anterior, lateral, and medial support for comfortable, professional protection.
If you have a career in football, your priority is to maintain healthy and agile feet. You need to keep a check on your ankles and feet throughout the game to avoid injuries while giving it your best. No other sport in the world offers you more risk of ankle injuries than football. But the Zamst A2 holds your ankle and foot together, compressing it firmly with straps and surrounds it with a hard cover. The straps improve blood circulation in the ankle and prevent your ankle from twisting. The hard cover acts as a shell against any outside force acting on your ankle.
There are three principles this ankle brace is designed around:
The i-Fit allows you to move naturally. The a-Fit automatically corrects the foot position, and Grip Tech keeps your ankle from slipping. The Zamst is undoubtedly a work of art for ankle health. 
Features:
Engineered with an EXO Grid to as an anatomically perfect ankle brace

Adjustable even after strapped

Comes in two sizes

Does not allow your foot to roll or twist

The X strap provides three-way support

A professionally designed pair meant for athletes 
Best Ankle Brace For Baseball
4) Swede-O Tarsal Lok Laced Ankle Brace
For quick and easy applications, the Swede-O is an athlete's best friend. Not only does it maintain your ankle health, but it also gives you a full range of motion every time you perform. While running through the bases, you need to make sure your ankle are firm. Sliding into third becomes easier when you have the confidence of making the run without the risk of an injury. The Swede-O Ankle brace holds your foot in place and makes sure you perform at your best every single time. Besides prevention, it also reduces pain from swelling, sprains, and other related injuries that could deter your performance in game. 
Features:
Semi-Rigid – does not limit movement by 100%

Keeps your ankle secure

Comes in 5 sizes

Quick and easy to take on and take off

Compressed with lace

Efficient and durable
Best Lace Up Ankle Brace
5) Shock Doctor Compression Ankle Brace – Shock Doctor 849
Sale
Compression Ankle Brace - Shock Doctor 849 Ultra Gel Lace Up Ankle Support - Black, Medium - Includes 1 Brace
DESIGNED WITH YOUR COMFORT IN MIND - comes fully equipped with internal gel cushions, a pre-curved tongue to offer stability, support, and alignment all wrapped...
GET UP AND GO OUT - Spraining an ankle can put a damper on your plans, but with our compression ankle brace you can get out and stay active with peace of mind...
FOR SPRAINS AND STRAINS - Performance Level 3: Provides medium stability for moderate to major ligament sprains, muscle strains, and unstable joints from...
THERAPEUTIC WARMTH AND HEALING - Adjustable ankle compression fit so you can adjust the pressure, compression stimulates heat to the sprain to boost muscle...
EASY TO PUT ON AND TAKE OFF - Convenient finger tabs offer an easy grip pull when fitting the brace, stays in place with anatomical non-slip footbed, fits both...
The primary difference between a strap and lace ankle brace is the range of motion your feet can access. The lace is undoubted better for range of motion. It is a prevention rather than a cure. If you have a healed sprain and want to continue a sport with a brace, then the lace ankle brace is a better choice. It allows you to move your feet in any direction whilst preventing sprains, twists, or other injuries. Our top recommendation for injuries, the Shock Doctor Compression Ankle brace, has a gel cushion on the inside to improve circulation and recovery. The cushion keeps your feet comfortable in your footwear and improves circulation. 
Features:
Internal gel cushions provide incredible comfort

Provides support even while you use it during sports or fitness activities

Compressed by lace

Applies therapeutic healing to improve ankle health

Anatomical foot-bed
Best Ankle Brace For Sprain
6) BioSkin Trilok Ankle Brace – Foot and Ankle Support for Ankle Sprains
An ankle sprain can take place anywhere, from a sport field to the side walk. We can't be 100% aware of where we are walking, especially if you are in a rush. Ankle sprains and twists happen more often than you think and require your feet to be held in place for recover. This also proves a challenge if you do not have time to relax and need to get back to work. But the BioSkin Trilok is your key to recovery. This ankle brace is a versatile and steady support for your feet. Once the swelling stops, you can strap it on and get back to work or fitness. You don't have to hold back on performance or fear of another injury. 
Features:
Made of Lycra and polyester

Uses micro-fleece compression 

Has comfortable straps to lock

Made of a Hypo-Allergenic material for top comfort

Available in different sizes

Recommended for Tendonitis
Best Ankle Brace To Prevent Rolling
7) DonJoy Performance POD Ankle Brace, Best Support for Stability
Sale
DonJoy Performance POD Ankle Brace, Best Support for Stability, Ankle Sprain, Roll, Strains for Football, Soccer, Basketball, Lacrosse, Volleyball - Small - Left - Black
Provides " On Demand" technology engages specifically when needed to proactively prohibit ankle roll and other common ankle injuries
Engineered to maximize the athlete's natural range of motion while providing exceptional support where it's needed
Molded TPU shell adapts to match the anatomical shape of any foot; Low profile design and adjustability ensure a customizable fit
Super soft EVA underlayer lining hugs the foot and ankle for ultimate comfort without being overly bulky
Designed to treat and protect against ankle instability, inversion and eversion ankle sprains, and roll control
Twisting or having a tear in your ankle is a result of excessive use of the ligaments holding the ankle. This is caused by sudden movements and is unpredictable. Additionally, the pain can keep you off your feet for days until you recover. In order to prevent rolling, you need an ankle brace to keep your ankle and foot in position so it does not twist. Having the maximum level of support and the ability to move through the natural range of motion, the DonJoy POD is astounding for sports and preventing sprains. 
Keep in mind that this ankle brace is not just for sport. If you walk long distances to get to work daily, then consider buying this brace to PREVENT any damage.
Features:
Sleek design 

Easy to put on and take off

Complete ventilation

Prevents rolls and sprains

Allows a complete range of motion

EVA underlying providing top comfort
Best Thin Ankle Brace
8) SB SOX Compression Ankle Brace (Pair)
SB SOX Compression Ankle Brace (Pair) – Great Ankle Support That Stays in Place – For Sprained Ankle and Achilles Tendon Support – Perfect Ankle Sleeve for Sports, Any Use (Black/Gray, Small)
✅ FINALLY – AN ANKLE BRACE THAT FITS JUST RIGHT - Tired of wasting money on overpriced ankle braces that are too bulky, too tight, and just aren't sized...
✅ PREMIUM DESIGN FEATURES - If you LOVE our other products, you will LOVE our ankle brace! Designed with lightweight, breathable, and premium fabric, our...
✅ IMPROVED BLOOD CIRCULATION WITH COMPRESSION SUPPORT – Our compression technology provides the ideal compression to provide the maximum boost to your blood...
✅ #1 RECOMMENDED DESIGN: PREMIUM CONSTRUCTION AND COMFORT – Our compression ankle sleeve is recommended by doctors and preferred by trainers. The smooth...
✅ GREAT INVESTMENT FOR YOUR ANKLES (GREAT GIFT IDEA TOO!) – We spend so much time doing physical activity yet tend to neglect our foot and ankle health. Why...
The best ankle braces you can buy are the ones that fit in your footwear like a sock. This way, your feet are not overwhelming the shoe and it can still continue to give you the same comfort level. If your foot is too bulky, or does not fit in a shoe, you will not get the benefits of support and comfort promised. The SB SOX is a very thin ankle brace that prevents sprains and let's you forget that you are even wearing one. By reducing leg fatigue and injury, the SB Sox improves blood circulation and physical performance tenfold. This product is highly recommended for athletes. 
Features:
Extremely thin but super effective

Does not move, but can be adjusted sideways

Achilles tendon support provided

Total compression and blood support

Great for any sport and fits into footwear easily

Premium design
Best Velcro Ankle Brace
9) IRUFA, AN-OS-11,3D Breathable Elastic Knit Patented Fabric Ankle Brace
IRUFA, AN-OS-11,3D Breathable Elastic Knit Patented Fabric Adjustable Athletics Achillies Tendon Ankle Wrap, Plantar Fasciitis, Pain Relief for Sprains, Strains, Arthritis and Torn Tendons XL
Made by Patented Spacer fabric, Neoprene Free, Latex Free, hypo-allergenic. quick dry Fabric Inside. 24 hours use.
Suitable for all sports tennis, badminton, volleyball, basketball, baseball, skating, cricket, yoga, gymnastics and martial art
3D breathable in any direction, 24 hours user. Alleviates conditions of Achilles Tendinitis and provides lift to heel, helping to prevent sudden stretch or...
S/M Size : Suitable for US men shoes #3.5~ # 8 US Women Shoes #4 ~ # 9.5 L/XL Size: Suitable for US men shoes #8.5 ~ #13.5 US Women Shoes #10 ~ #15. S/M size...
Fits both ankle. Adjust the compression at any time . Machine washable, Light weight.
Ankle braces come in all shapes and sizes. Different sizes offer various support levels and features. As a velcro ankle brace, the IRUFA is designed for the every day user. This ankle brace is not too strong on your joints, but can certainly make you feel the difference. Additionally, the open spaces allow your feet to breathe and it lets your fit into your footwear comfortably. For the 24-hour user, the Irufa is a product that can stay on without collecting sweat. It is easy to wash and works wonders sports, Yoga, etc. 
Features:
Easy to put on and take off

Great ventilation

Thin design, perfect for footwear

Tight velcro for compression

Keeps the ankle intact

Machine washable and can be worn for 24-hours
Best Ankle Compression Sleeve
10) Zensah Ankle Support – Compression Ankle Brace
Tendinitis, Sprains, and ankle rolls can take place at any time. If you have a career in sports or play daily, you may have witnessed or experienced it first hand. The two factors that lead to injuries are a bad pair of shoes and a loose ankle. The Zensah Compression Sleeve works for both these factors. The Nylon-Spandex material used keeps your feet firmly held along the ankle line right to shin. And with its thin body, the sleeve fits perfectly in your footwear without causing any discomfort or bulking the shoe size. With more blood flow and the incredibly lightweight, these ankle braces make you feel more agile than ever. They are very reliable and useful for ankle pain. 
Features:
Made of Nylon and Spandex

Extreme comfort

Easily adjustable

Modern design

Very thin

Improves blood circulation

Machine washable

3D Geo Tech Ribbing design to reduce injury

Comes in different sizes
Best Ankle Braces for Fracture
11) United Ortho Short Air Cam Walker – Best Ankle Braces for Fracture, Medium, Black
Sale
United Ortho Short Air Cam Walker Fracture Boot, Medium, Black
Universal – Fits Right or Left Foot
Sizing – Medium fits men's 7-9 and women's 8.5-10.5 shoe size, refer to size chart and understanding fit guide found in images and video that demonstrates...
Promotes Natural Walking – Rocker sole and shock-absorbing insole promote more natural walking during use
Comfort and Compression – The air bladders offer custom compression as well as increased comfort and support
Sturdy – The reinforced plastic shell and uprights support and protect the foot
Recovering from a fracture takes a toll on your feet. You need to keep your foot firmly held with the ankle and prevent any movement in order to recover completely. Along with this, you need to protect your feet from external forces. The United Ortho Cam Walker is more than a brace. It's a shell for your ankle that allows you to take your time when recovering from a fracture. The body is heavy enough to keep you from over using your ankle, and light enough to move around. With a case this hard, the United Ortho Walker is a safe space for your feet. Strap in and let the recovery begin. 
Features:
Fits either leg

Hardcover is perfect for fractures

Increases circulation and improves recovery rate

6-month warranty

Shock-absorbing soles

Maximum weight is 300 pounds

Synthetic fabric
Best Ankle Braces for Plantar Fasciitis
12) Kemford Ankle Compression Sleeve – 1-Pair Plantar Fasciitis Sock
Sale
Ankle Compression Sleeve - 20-30mmhg Open Toe Сompression Socks for Swelling, Plantar Fasciitis, Sprain, Neuropathy - Nano Brace for Women and Men (Large, Black)
✅PREMIUM QUALITY - Our 20-30mmHg graduated compression sleeves are made only of high-quality materials. They are lightweight and breathable. Perfect for your...
✅ANKLE PAIN RELIEF - Wear these ankle compression sleeves under your shoes and socks for pain relief in your heels caused by plantar fasciitis, injury,...
✅PERFECT FOR EVERYDAY USE - The short ankle brace compression sleeves are great for people who have to stand for long periods of time: nurses, teachers,...
✅STAY ACTIVE WITH ANKLE SUPPORT - These low ankle compression socks work great as ankle stabilizers for any athletic activity: running, boxing, hiking,...
✅GREAT CHOICE - If you're looking for a proper ankle support sleeve that reduces swelling, soreness, inflammation, eases fatigue, improves blood flow...
The Plantar Fascia is a muscle tissue that connects your heel to your toes. It lies on the sole your feet and aids in allowing you to jump. As you keep jumping and running, the plantar fascia slowly being to wear out causing an injury called Plantar Fasciitis. Sadly, the only way you will know about it is through sharp pains around the sole of your feet. This pain can sometimes be unbearable and is a regular phenomenon for athletes. The Kemford Compression sleeve helps prevent Plantar Fasciitis by holding your ankle and heel firmly enough to maintain the foots original position when you jump or require a sudden burst of speed.  Being one of the best options for your feet, Kemford Ankle Compression Sleeve provides faster recovery and is suitable for all shoes. 
Features:
Comes in five colors – brown, black, white, pink, and grey

Comes in different sizes

The highest rating on Amazon in its class

Provides proven ankle pain relief

Keeps your ankle in line with excellent support

Made of Nylon and Spandex

Allows you to control the foot's range of motion

100% money-back guarantee if you are not satisfied
Best Ankle Braces for Exercise Recovery
13) TechWare Pro – Best Ankle Braces/ Compression Sleeve
TechWare Pro Ankle Brace Compression Sleeve - Relieves Achilles Tendonitis, Joint Pain. Plantar Fasciitis Foot Sock with Arch Support Reduces Swelling & Heel Spur Pain. (Beige, L / XL)
STRONG COMPRESSION IN A THIN SLEEVE: Pain Relief From Arthritis, Sprains, Muscle Fatigue, Stress Fractures in a Slim, Breathable, Moisture Wicking Soft Fabric...
PREMIUM QUALITY AND STRONG COMPRESSION: Our Unique Manufacturing Process Provides Tight Fit Comfort Around Tendons and Muscles to Improve Blood Circulation and...
NO SLIP FIT FOR ANY ACTIVITY: Stay Comfortable in the Game All Day and Night. Baseball, Crossfit, Running, Basketball, Soccer, Walking, Hiking, Tennis,...
FAST RELIEF FROM PLANTAR FASCIITIS: Helps With Standing And Walking Pain. Our Therapy Socks Helps The Splint Area To Relieve Heel And Arch Pain. Compressing The...
YOUR FEET DESERVE TO BE HAPPY: No Neoprene But rather 80% Nylon and 20% Spandex For Superior Support. 3 Sizes SMALL / MEDIUM, LARGE / X-LARGE and XX-LARGE...
Ankle braces are not only for people with an injury. If you exercise regularly we recommend the TechWare Pro,, and here's why:
You will be preventing any kind of injury that could affect your ankles. From running to weightlifting, you are using your ankles complete strength to get you through you workout. Once you are done with your workout, you will feel a small and insignificant pain in your ankles. This pain grows over time and is caused due to insufficient recovery of the ankle, heel, and shin. From a medical and health perspective, you need an ankle brace to keep your fitness going. Premium comfort and quality is Techwares moto. These ankle braces are thin and go unnoticed by the public. And if they are noticed, expect your friends to tell you how cool they look. 
Features:
Thin sleeve with firm compression

Comes in different colors

Improves blood circulation in the feet

Non-slip material

Quick relief from Plantar Fasciitis

Provides superior support
Best Ankle Braces for Ankle Injuries
14) Crucial Compression Ankle Brace Support Sleeve
Sale
Ankle Brace Compression Sleeve for Men & Women (1 Pair) - BEST Ankle Support Foot Braces for Pain Relief, Injury Recovery, Swelling, Sprain, Achilles Tendon Support, Heel Spur, Plantar Fasciitis Socks
INSTANT SUPPORT AND RELIEF - You will feel the difference immediately with the Crucial Compression Ankle Brace. Get fast pain relief with less swelling,...
LIGHTWEIGHT AND BREATHABLE - Some foot and ankle braces are too hot, too bulky, or impossible to get on. Why settle for anything less than the best? Our Premium...
WALK, WORK, RUN OR PLAY - With unmatched support and durability, our ankle compression sleeves will take you wherever you need to go - we guarantee it. Top...
INCREDIBLE RESULTS - Designed and proven to benefit men and women who need effective ankle, foot, and arch support for lasting pain relief. Break through and...
100% "PERFECT FIT" GUARANTEE - Your comfort is our passion! Use our size chart to choose the best fit. If you are not completely satisfied with your compression...
Ankle injuries include Plantar Fasciitis, Sprains, Twists, Rolls, Tendinitis, and many other injuries that you will never see coming. Crucial Compression is a self explanatory brand that lets you face these injuries head on with superior support and instant relief. The crucial compression ankle brace makes you feel better and provides faster recovery from injury. It allows you to continue being active while keeping your ankle firm and steady. Not only is it recommended for sports, but also for daily use. 
Features: 
Provides instant support and relief to the foot and ankle

Complete ventilation and comfort

It allows you to run or workout with no limits. 

You can control the foot's range of motion

Comes in different colors

Very thin

Reduces foot fatigue and works as a performance booster

Different sizes for a perfect fit
How Do I Know If I need An Ankle Brace?
Most people ignore a lot of medical advice because they read it on the internet and let it be. But if you walk, run, skip, or even weight lift, an ankle brace is the best gift you can give your feet. As time goes on, you face the natural wear and tear of muscles. As a result, you develop sprains and other ailments that make your body weaker. 
If you have any of the following, we recommend an ankle brace right away:
Sprain

Sudden pain on the sole of your feet

Stress on your foot

Ankle pain
If you have had any of the following ailments, you should opt for the best ankle brace with straps and lace to keep your foot from moving:
Avulsion Fracture

Stress Fracture

Arthritis

Tendon Ruptures

Inability to keep your feet stable on the ground

Swelling around the ankle 
Do not neglect the signs that show your ankle becoming weak. It happens to everyone, and we need to find new ways to care for our bodies. 
Buying Guide To The Best Ankle Braces
Buying an ankle brace is not as easy as buying a bottle of water. Certain factors allow you to use it daily. Here's our guide to buying the best ankle braces online:
Physical Factors:
Size – 

Consider the size of the product you are buying. If you purchase ankle braces that are too small, they will limit the blood flow in your leg and cause further problems. If it is too big, the brace will not have any effect. Make sure you see a chart and purchase a leg brace that suits you and your needs. 

Design –

 Buying the right brace depends upon the style you require. If you are an athlete, you need a brace that is comfortable and allows you to move freely. Sleeve braces differ from straps and lace in quality and comfort. You should also look at colors and find out what you like before making your purchase. 

Type of Compression – 

From straps to lace, differnt braces offer different levels of support. If you want to keep your feet in place, you need to buy a pair of braces that have a tight hold on your ankles. You can even purchase a pair that is easy to put on and take off immediately, as per your use. 

Material – 

Nylon Spandex combinations are the majority material used for ankle braces. You can also find hard plastic and gel cushions in some of the best products online. As for the best ankle braces online, look for ones that do not hold sweat and are easy to clean. This is a significant factor as you can reuse the product without worrying. 
Additional Factors
Personal Requirement –

 Understand what your requirement is and what you are looking for in an ankle brace. Not all braces are the same, and not all of them can be useful for every ailment. 

Cost –

 Cost plays a significant role in finding the right product. We have our recommendations above, which are the best prices for products in their category. You should try to get the maximum value out of your brace, which means reuse, convenience, and injury prevention. 

Warranty – 

If the company offers you a return policy or warranty on your product, do not hesitate to take it. A return policy is the best way to know that a company is sure about its product's ability. It's also one of the reasons you find warranties only with trustable brands. 

Reviews – 

Don't rush when buying your ankle brace. Take your time, go through reviews on Amazon, and then make your decision. Different people may have different experiences, and you will only know about it when you hear their story. 
Other Ways To Improve Ankle Strength
Several factors cause injuries to your legs. And every day, people take it for granted. Prevention is always better than finding a cure. Here are some measure to avoid injuries to your ankle:
1) Finding The Right Footwear – There are different shoes for every sports activity. You cannot wear baseball shoes while playing basketball. Similarly, you cannot wear walking shoes while running. Every shoe is designed to give you a range of comfort and reduce stress for a specific activity. Find a shoe that suits your requirements. 
2) Stretch and Warm-Up – Before any workout or sporting activity, you have to stretch and warm-up your muscles. This practice keeps your body ready for any sudden movements. If you do not warm-up, your body will not be prepared for unexpected high pace situations. This negligence is one of the leading causes of strains and injuries. 
3) Regular Exercise – There is no substitute for hardwork. If you want to strengthen your feet and muscles, you need to exercise them. Have a routine where you work out different parts of your body. This is highly recommended for people who walk long distances and those who remain idle for long periods. 
4) Look Where You Walk – This might be a funny point, but it's true. Many people often slip and sprain an ankle because they do not notice the surface over which they are walking. Falling over ice or tripping over a block can even cause you to twist your ankle. 
Get immediate medical attention if you have ankle pains. Do not neglect them and make sure you take rest whenever needed. 
FAQs
Q: Can I clean my Ankle brace?
A: Most ankle braces such as Velcro and sleeves, can be machine washed. If you have hard cases, you will have to wash it by hand to avoid damaging the product. Check the manual for further advice on the merchandise you purchase. The best ankle braces you can get usually do not hold too much sweat. 
Q: Can I use the Ankle brace while practicing Yoga?
A: Yes. By using an ankle brace, you are improving the blood circulation in your feet and ankle. You are keeping your foot steady, which will also result in better foot positioning during Yoga. This will, in turn, yield better results.  
Q: How long should I keep on the Ankle braces?
A: Depending upon what you need the brace for, you can keep it on for minutes or hours. If you are using it specifically for sports, then put it on during the game. If you wear it always during the day, your foot might slowly adjust to the brace in such a way that it might change shape and be unable to function correctly without the ankle brace. Consult your doctor or a medical expert for a precise and personal duration. Always remember to use the best ankle braces which are comfortable. 
Conclusion
Make sure you take care of your ankle by using the best ankle braces when playing sports. Injuries can happen at any time, even while walking on the sidewalk. Try icing your feet when they start to pain and get exercise to strengthen your ankle and feet. Make sure the brace you purchase is right for your requirement, whether daily use or for sports. There is no substitute for good health. Also, make sure your shoes are of good quality as wrong shoes can cause joint pains for runners. Remember not to over-train your legs as it could lead to injury, without rest.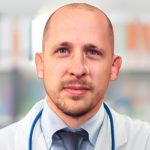 Dr. David Taylor is a medical professional and an avid blogger. He holds an M.D. from Drexel University & a Ph.D. from Indiana University School of Medicine.
Dr. David loves to utilize technology to improve healthcare and he does it daily through BestRatedDocs.com. He founded the company in 2016 with the vision to make the discoverability of the best healthcare facilities & best products simple and easy. His passion for informatics and using technology to empower healthcare professionals and the patients they serve is unmatched. He regularly blogs about technology, health IT, medical products and other healthcare topics at bestrateddocs.com.
Last updated on 2020-10-30 // Source: Amazon Affiliates