Vorfreude Cardiology Stethoscopes – A Detailed Review
By BestRatedDocs    |     Last Updated: 05 May, 2018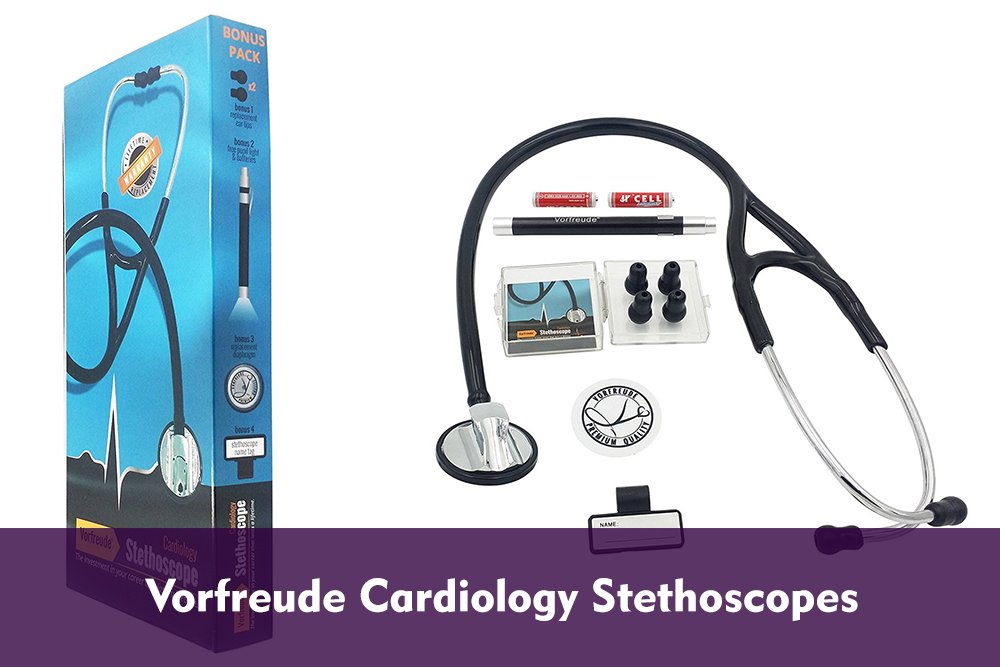 There are numerous stethoscope brands available in the market. One of the leading and US-based stethoscope brands that have gained immense popularity in a short time period is Vorfreude.
Vorfreude is a new stethoscope brand, which is a leading player in the US market. The company offers German engineered stethoscope that has been appreciated and praised by users. The company is famous for offering an elite range of cardiology stethoscopes for medical professionals. Whether you are a doctor, nurse, medical expert, or a beginner medical student, if you wish to know about things that make Vorfreude cardiology stethoscopes one of the best choices, then read this post till the end!
With its name derived from the German word for anticipation, the cardiology stethoscopes from Vorfreude live up to their name. It is a reputed brand offering a range of high-quality stethoscopes available with a lifetime replacement guarantee. The cardiology stethoscopes from Voefreude are a bit of specialty as the products are made of the best-quality materials.
Since the Vorfruede cardiology stethoscopes come with a lifetime part replacement guarantee, hence buying them would ensure that your purchase is risk-free. Even the same is mentioned on the company's website that if you are not satisfied with the products, you can return it back easily and conveniently. In return, you would be offered with a replacement for absolutely free.
Bestselling Vorfreude Cardiology Stethoscope:
Sale
Features of Vorfreude Cardiology Stethoscope:
Vorfreude cardiology stethoscopes are highly popular in the market because of their exclusive features and amazing functionality.
Lightweight
The dimensions of Vorfruede cardiology stethoscopes are almost similar to that of the famous stethoscope brand Littmann. However, if you compare the weight, the stethoscope holds a 5% less weight than the Littmann's stethoscopes.
Because of lightweight, you would not experience any problem or strain on your neck while carrying the stethoscope.
Construction and Engineering
Another great feature of Vorfruede cardiology stethoscopes is that these are engineered and manufactured with German-based quality. The edges of the diaphragm hold a mirror finish that prevents pitting and corrosion to a great extent.
The Vorfruede stethoscopes are manufactured with German engineering. Hence you get to enjoy the best quality stethoscopes when you are buying the Vorfruede Cardiology stethoscopes. Additionally, the stethoscope holds an excellent acoustic sensitivity despite being available at a lower price as compared to other expensive stethoscope brands.
Vorfruede Kit ideal for Medical Students and Professionals
You can purchase the stethoscope kit from Vorfruede that would offer you with not just amazing functionality, but also with incredible features. The kit has a perfect 4 replacement ear tips, two AAA batteries, and a pupil penlight. Hence, you can use it or can consider it as a perfect medical gift for the aspiring medical students.
Excellent Comfort
Also, the kit is available with a lifetime replacement guarantee. Hence, it will last a lifetime. With patented BiChannel alignment, the stethoscope offers excellent flexibility to adjust ear tips and headset. As a result, you can expect a comfortable fit for an extensive assortment of canal vector adjustments.
High Performance
The Vorfruede cardiology stethoscopes are built with high-quality materials. These stethoscopes hold a double lumen tube design and a single head that eliminates ambient noise completely. There is noise interference experienced while using these stethoscopes. As a result, they are perfect for EMTs who want a high precision at work.
Tunable Diaphragm
To make it easier for users, Vorfruede introduces cardiology stethoscopes with a tunable diaphragm. This utilizes patented 'Press Frequency' technology that reminds users strongly of the amazing tunable diaphragm technology of Littmann's stethoscopes. This stethoscope even uses a patented 'Press Frequency' technology that is almost equal to the tunable diaphragm technology of Littmann. For this reason, most of the users who find Littmann's stethoscopes a highly pricey tend to prefer the Vorfruede cardiology stethoscopes.
Using the Best Vorfruede Cardiology Stethoscope
The Vorfruede Cardiology Stethoscope offers you the strongest warranty from the industry. The product comes with a lifetime replacement. It pinpoints any frequency in the audible range by placing slight pressure on the diaphragm. As a result, you would obtain high acoustic sensitivity and superior performance while using this stethoscope.
Additionally, the Vorfruede cardiology stethoscope includes 4 replacement ear tips, replacement diaphragm, and powerful carry case for replacement, a pupil penlight, penlight with batteries, and a customizable stethoscope nameplate.
The patented BiChannel enables binaural flow with single master tubing. This reduces the weight of the stethoscope to a great extent. Additionally, it hosts an oversized stainless steel bell and a non-chill rim. The stethoscope comes with a powerful ergonomic design canceling noise grip and increasing the audible volume to a high level.
With PBA free, hypoallergenic latex free, and stainless steel construction, the stethoscope is a highly powerful unit with excellent factory testing performance.
Instructions for Using Vorfreude Cardiology Stethoscope
Oversized Chestpiece
This Vorfruede cardiology stethoscope comes with a stainless steel bell and a non-chill rim. The stethoscope holds an excellent ergonomic noise canceling mechanism that boosts the audible volume and also ensures to maintain a firm grip on the chest piece. You just have to ensure that the stethoscope does not come into contact with loose clothing or mechanical watches to avoid audible interference.
Altering Frequencies with Press Frequency Diaphragm
This cardiology stethoscope from Vorfruede enables complete audible range. You just have to adjust pressure levels in order to hear distinct sound frequencies.
For listening to low frequencies, you just have to apply some light pressure on the diaphragm. In order to listen to high frequencies, you need to place some more pressure on the diaphragm.
Patented BiChannel Enabling Binaural Flow
The Vorfreude Cardiology stethoscope is crafted to offer a comfortable fit as well as high acoustic sealing to the ear canal. The binaural set is designed to accommodate ear canal with a comfortable grip in the forward direction.
Summing Up
Vorfreude Cardiology stethoscopes are lightweight devices that are designed to offer high performance and maximum comfort to the users. The stethoscopes come with sufficient length of tubing that is ideal for proper examination of the patients. With these stethoscopes, you can experience perfect auscultation and listen to all types of sounds of the lungs, heart, and stomach.
Hence, if you want a great quality stethoscope at a slightly low price, then the Vorfruede cardiology stethoscopes are an ideal choice.
To know more about Cardiology stethoscopes click here.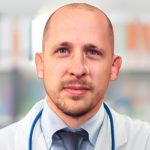 Dr. David Taylor is a medical professional and an avid blogger. He holds an M.D. from Drexel University & a Ph.D. from Indiana University School of Medicine.
Dr. David loves to utilize technology to improve healthcare and he does it daily through BestRatedDocs.com. He founded the company in 2016 with the vision to make the discoverability of the best healthcare facilities & best products simple and easy. His passion for informatics and using technology to empower healthcare professionals and the patients they serve is unmatched. He regularly blogs about technology, health IT, medical products and other healthcare topics at bestrateddocs.com.
Last updated on 2019-07-20 // Source: Amazon Affiliates