Plastic surgery is a practice that helps to enhance and modify the structural defects in a person's body. It is one of the most popular fields of surgeries these days. If you too are seeking the services of the best plastic surgeons in Hyderabad then here we share with you the list of top surgeons.
Priti Shukla – Ambrosia Clinic
A well-known cosmetic expert in Hyderabad, Dr Priti Shukla has been in the industry since 2001 and is a highly respected personality in the industry.
She is a certified cosmetic surgery expert and one of the leading plastic surgeons in Hyderabad. With a deep interest in cosmetic surgery, she plans plastic surgery only for patients, who truly need it. With her detailed analysis and understanding of the patient's health condition, she has been able to offer successful results to large numbers of patients.
His specializations in the field include breast enhancement, body contouring, and facial surgeries. He is also a proficient in reconstructive surgeries after burns, accidents, deformities, micro-vascular surgeries, and flaps. She is a highly skilled plastic surgery expert in Hyderabad who is known to identify the patient's need in just single assessment. She offers world-class cosmetic surgery solutions to the patients.
Her centre houses the most advanced surgical equipment. As a dermatologist, she is always keen to offer a better holistic approach to the cosmetic concerns and problems of patients. With a rich experience of more than 15 years, she has patients coming from different genres and all parts of the world.
Address – MLA Colony, Indian Overseas Bank Building, 3rd Floor, Road NO – 12, Banjara Hills, Hyderabad – 500034
Website – www.ambrosiaclinic.com
Phone Number – 9014901020
Hari Kiran Chekuri – Redefine Plastic Surgery and Hair Transplantation Center
Another one of the top plastic surgeons in Hyderabad is Dr Hari Kiran Chekuri. He is the ex-Medical Director of the OMSAI Hospitals, and the consultant plastic surgeon at the Redefine plastic surgery and hair transplantation center.
Also, he is an Assistant Professor in the Department of plastic surgery at OWAISI Hospital, Hyderabad. He was born in Nalgonda district and graduated from the reputed JSS Medical College, Mysore. He completed his post-graduation from Kolar and got surgical training from the MNJ Cancer Hospital. He completed his masters in plastic surgery from Owaisi Hospital. He is a gold medalist in plastic surgery from the NTR Health University.
He is a board-certified professional who holds immense proficiency in cosmetic and plastic surgery. He has done thousands of surgical procedures efficaciously. His surgical expertise includes eyelid surgery, liposuction surgery, nose surgery, rhinoplasty, gynecomastia. Breast reduction, breast implants, hair transplant, face-lift, and body contouring.
He has bagged numerous awards and honours for his excellence. He has won potentials for his reconstructive surgery and has also successfully treated hundreds of post-burn patients.
Address – Door No – 11-9-45/1, Beside OMNI Hospital, Kothapet X Road, Nagole Road, Hyderabad – 500035
Website – www.redefineau.in
Phone Number – 9237123456
Shridharan – Medini Cosmetic Surgery Center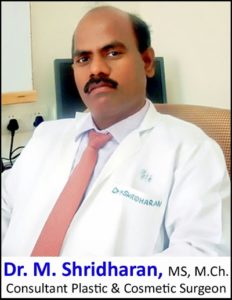 Another leading cosmetic consultant and plastic surgeon in Hyderabad is Dr M. Shridharan.
He has been serving the industry for past several years. With his intricate surgical expertise and well-defined decision-making solutions, he is able to offer patients with exceptional and permanent treatment solutions. He got his surgical training from Kilpauk Medical College, Chennai. With a special interest in corrective cosmetic surgery, he is able to operate hundreds of patients with successful results.
Some of the prominent areas of interest of this leading cosmetic surgeon in Hyderabad are liposuction, abdominoplasty, hymenoplasty, gynecomastia, rhinoplasty, breast augmentation, scar revision, surgery for sagging breasts and breast reduction. Because of his in-depth knowledge and expertise in the field, he is one of the prestigious members of the Indian Medical Association and Association of Plastic Surgeons of India.
He is a reliable plastic surgery doctor in Hyderabad who holds a proven record of conducting successful surgeries and procedures.
Address – MIG 321, Beside Syndicate Bank Road Number – 4, KPHB Colony, Kukatpally, Hyderabad – 500072
Website – www.medinicosmeticsurgery.com
Phone Number – 9000906234
Ram Bhupal Rao – Akruti Institute of Plastic and Cosmetic Surgery
Dr Ram Bhupal Rao is one of the reputed cosmetic surgeons in Hyderabad. With specializations in varieties of aesthetic surgical practices, he stands as a proficient name in facial plastic surgeries.
Besides rich experience and in-depth training in the field, he holds unmatched surgical skills and dedication to precision. For this reason, he is able to deliver customers with excellent and personalized treatment solutions. He is reputed name for accomplishing natural appearance for most of his patients. He is well-versed with latest techniques and uses only modern technological and surgical development solutions.
He has published numerous written journals and case studies about the aesthetic surgery. He intends to offer world-class solutions to his clients. His institute houses team of multiple experts having medical specialities and a holistic approach towards the client. He intends to work in a fruitful environment in order to bring down the operation cost and time, and offer patients with more defined solutions, and faster enhancements.
He holds a clientele base from not just Hyderabad, but from entire India, Asia, Africa, Europe, United States and other foreign nationals.
Address – JNTU Road, 6th Phase, Near Malaysian Town Ship, KPHB, Hyderabad – 500072
Website – www.akruti.co.in
Phone Number – 7386191919
Vekatueswarlu Thota – Revera Aesthetic Plastic Surgery Clinic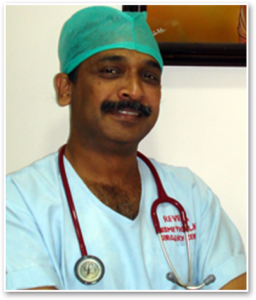 Also, famous as Dr Venkat Thota, he belongs originally to Chintriala, Khammam District, and was born in a middle-class family having agriculture as their main occupation.
He always had dreams and zeal to reach heights and to become one of the highly successful doctors in the nation. With his dedication, hard work, focus, and commitment, he presently stands as one of the topmost plastic surgeons in India. He has always received positive appreciations from his patients for addressing their problems in the best way and offering them with most reliable solutions.
He is not just an intellectual personality but also a Gold Medalist in MS General Surgery. After this, he pursued MCh in Plastic surgery and finally finished his fellowship in Micro Vascular Surgery from the Nizam's Institute of Medical Sciences. He is actively involved in various conferences and meetings and is an active member of the famous Indian Medical Association as well as Association of Plastic Surgeons of India.
With more than 20 years experience, he is a responsible personality aimed to fulfil all responsibilities dedicatedly and with precision.
Address – 3rd Floors, Prime Plaza, Woodland Showroom Building, Telangana – 500029
Website – www.revera.in
Phone Number – 9866224871
Conclusion
These are the top 5 cosmetic experts in Hyderabad. You can contact them to get the best solution to your cosmetic and structural issues of the body.